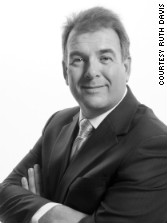 By Steve Nicholls, Special to CNN
Editor's note: Steve Nicholls is the author of Social Media in Business. He is a social media strategist hired by business executives to teach them how to implement a winning social media strategy into their organization.
The New York Education Department recently stated that in the first 11 months of 2011 there were 69 cases where teachers were accused of inappropriate conduct with students on Facebook. Some were fired as a result, and there is a growing trend by schools across the country to put a ban on social media.
This raises a question: Is prohibiting social media in schools the right way to protect children?
In my view, if the answer is yes then that would mean that as technology grows, schools are forbidden to grow with it, and that would somewhat be of a contradiction to what a school is supposed to be in the first place.
I believe it is critical that social media is allowed in schools as it presents a world of opportunities that far outweigh the risks if it is implemented safely and properly. Social media has become far too integrated into daily life on a global basis; failing to incorporate it into schools would do our children a disservice.
Think of how far the space has grown in just a few years (remember Myspace?) and imagine where it will be by the time your child is out of college. Trying to ban social media will simply not work. Just ask certain autocratic countries that have tried in vain. The question at the core of the issue is: Why ban it?
Concerned parents may point to the potential dangers and risks. What about inappropriate interaction with teachers? Or scams from online predators? Even adults fall prey to human emotion and post things they would love to have back. Why put my 10-year-old in that position?
My answer is to first acknowledge that these concerns are warranted and the threats are real. That being said, while the risks of social media are very serious, the biggest risk of all is not to embrace it. Bad people exist in all walks of life, and while we must protect against them, we must not let them hinder progress. For example, if a pedophile is found near a school playground, would you homeschool your child? I think in most instances the answer would be no.
FULL POST