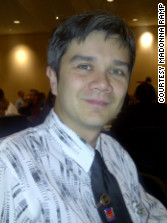 By Xian Barrett, Special to CNN
Editor's note: Xian Barrett teaches law and Chicago history at Gage Park High School in Chicago, Illinois. In 2009, he was selected one of ten Classroom Teaching Ambassador Fellows by the U.S. Department of Education. This article is in response to comments on a previous story about Chicago teacher work days.
Educators will often observe with some frustration that our profession is one of the few that people from all walks of life feel comfortable commenting on and often criticizing. Precious few know the intimate details of what our days are like. While the negative feedback can often be disheartening, I think we must regard the public's interest in our work as a great opportunity—it shows that people care deeply about the calling to which we have devoted our lives.
If some people's perceptions of what we do with our workdays does not match up with the reality, we have an obligation to inform them of that reality. This need has been particularly noticeable in the public discourse on the length of our school day.
Much has been made of the shortness of our school day, especially here in Chicago. The oft-cited 296 minutes is the amount of time Chicago elementary school teachers are in front of students. As a high school teacher, my contract requires that I teach five 45-minute periods each day. On Fridays, each class is shortened by 4 minutes to allow for a 30-minute homeroom period. Doing the math, that's 225 minutes each day, with 235 minutes on Fridays.
I can understand how that sounds like a short day.
However, to count a teacher's working minutes by looking at the time we are directly teaching students is like only counting the minutes that a dentist has the drill in your mouth.
FULL POST