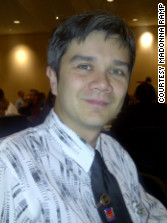 By Xian Barrett, Special to CNN
Editor's note: Xian Barrett teaches law and Chicago history at Gage Park High School in Chicago, Illinois. In 2009, he was selected one of ten Classroom Teaching Ambassador Fellows by the U.S. Department of Education. This article is in response to comments on a previous story about Chicago teacher work days.
Educators will often observe with some frustration that our profession is one of the few that people from all walks of life feel comfortable commenting on and often criticizing. Precious few know the intimate details of what our days are like. While the negative feedback can often be disheartening, I think we must regard the public's interest in our work as a great opportunity—it shows that people care deeply about the calling to which we have devoted our lives.
If some people's perceptions of what we do with our workdays does not match up with the reality, we have an obligation to inform them of that reality. This need has been particularly noticeable in the public discourse on the length of our school day.
Much has been made of the shortness of our school day, especially here in Chicago. The oft-cited 296 minutes is the amount of time Chicago elementary school teachers are in front of students. As a high school teacher, my contract requires that I teach five 45-minute periods each day. On Fridays, each class is shortened by 4 minutes to allow for a 30-minute homeroom period. Doing the math, that's 225 minutes each day, with 235 minutes on Fridays.
I can understand how that sounds like a short day.
However, to count a teacher's working minutes by looking at the time we are directly teaching students is like only counting the minutes that a dentist has the drill in your mouth.

Just as you want to your dentist to prepare before operating on your teeth, parents should want educators to prepare before we teach your child. We have many duties beyond the time we are directly instructing students.
How much time do I really spend each day?
Most Chicago teachers give our all in very challenging conditions. A recent Gates study suggests that the average teacher works 53 hours per week, while University of Illinois researchers found that Chicago teachers work approximately 58 hours per week. Several years ago, I counted my own hours and found that I was consistently working between 70-90 hours each week.  Through challenging conditions, we impact hundreds of students positively every day; sometimes in small ways, sometimes in earth shattering, life-changing ways.
I teach 9th grade world studies. In a given day, between classes, organizational activities, hallway interaction, phone calls and social media interaction, I will engage between 200-250 students, former students and parents.  At my current school, I report to work at 7:22 a.m. and can clock out at 2:15 p.m. with a 45 minute lunch period. This compares similarly with the lengths of school days in the higher performing suburban districts. In Chicago, public high school days that are the "shortest in the country" exist only in the minds of those attempting to impose a longer school day.
In addition to teaching five classes, one 45-minute period at school is reserved for preparation; we get four of these each week. There is little time to prepare anything as students are there as well, catching up on work or participating in our "restorative justice program," where students help each other design constructive programs to restore damage they caused by breaking rules. This program saves us time in the long run; a reduction in student misconducts has reduced missed time dealing with discipline and has lowered the number of students failing for disciplinary reasons.
Another period is dedicated to our mandated common planning time. We review the district's latest initiatives or analyze our student achievement data. The students spend nearly four weeks of class time taking standardized tests
The last period of the day is spent with my cooperative special education teacher as we plan for the next week. We trade advice on how to support some of the students struggling a bit in each other's classes.
When the end of the school day comes, I head down the four flights of stairs to the basement where I meet our Youth Summit organization members. Our meetings last until 3:30 and we often will schedule collaborations with other student groups or trips in the late afternoon. We also travel and perform service-learning projects most Saturdays during the school year.
On any given day, I will spend two hours at home creating my own lesson plans or adjust existing materials to the specific needs of my students. I will also sit down to grade papers and return calls and messages. Many of my texts, emails, Facebook, Twitter and phone messages are from current students, usually regarding homework and several are from former students needing a letter of recommendation or support on some life emergency.
The other day, I finally called back my mother who's been calling me for days. She says, "You sound tired, I'm going to let you go." I set my alarm for 4:30 a.m., and glanced at my cell phone. It was 1:14 a.m. I fell asleep on the couch.
Last month, our hundreds of elected union representatives voted unanimously to reject a recommendation of an 18.2% pay raise in compensation for an extended school day. We want improvement in our schools, and we would like to be compensated fairly for our work. There are just far more effective ways to support our students' learning.
Both the Chicago Teachers Union and the VIVA (Voices, Ideas, Vision, Action) teacher group I work with have created reports on how to better use time in our day to maximize student learning.  (You can click on the links on their names to see those plans.)
Personally, I simply wonder where the extra time would fit in. I don't want less time with my students, I want more self-directed time where I can give my students what they need rather than give them more district proscribed testing and test preparation.
I am happy to work on solutions—one year I did a policy writing fellowship with the U.S. Department of Education while teaching five classes—but too often community, student, parent and teacher-generated solutions are ignored. I don't think this is unique to Chicago.
My hope is that we can get beyond the common teacher bashing narrative to acknowledge that we share a great deal: we all want what's best for the children of America; I and those in my profession just express that desire through our direct work while others express it through their desire for school improvement. If we can respectfully dialogue and build solutions, we can reach the best possible future not only for our students but also for our nation at large.
The opinions expressed in this commentary are solely those of Xian Barrett.