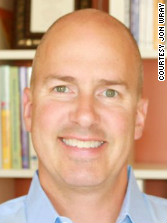 By Jon Wray, Special to CNN
Editor's note: Jonathan Wray is the instructional facilitator for secondary mathematics curricular programs in the Howard County (Maryland) Public School System and is an elected member of the National Council of Teachers of Mathematics board of directors. He is co-founder of the Core Challenge, a program to support teacher collaboration and execution of the Common Core Standards in math.
(CNN) - The United States' worldwide ranking in mathematics education is a common lament among teachers, parents, students, politicians and just about anybody else who has a stake in our nation's future. The United States recently ranked 25th out of 34 developing countries in mathematics falling behind countries such as Japan, Germany and France. Ask a hundred people the cause of this situation and you'll get a hundred different answers. One reason in particular, however, is that we have hundreds – if not thousands - of different ways of teaching our students, and different ideas of what they ought to be taught.
As an educator, I would love to tell you that I have the magic formula to teach every single student to succeed. While I don't, I do believe a key step is for all educational stakeholders to approach our mathematics challenges in a more collaborative manner.
One problem is that each state in our country has developed its own criteria for measuring student success. Imagine being a student or teacher who has to move across the country or find a new teaching job, only to be told that, by their new school's standards, their approach to math or reading is suddenly wrong – or even more likely, that a student's "A" performance at his last school now only merits a "C."
I may have a brilliant system for teaching mathematics to primary school students in my home state of Maryland, but if I try to apply it to kids in Pennsylvania, suddenly I'm trying to prepare and grade students under different standards.
This will soon change thanks to the collaborative efforts of motivated teachers, parents and government entities across the country. The Common Core State Standards  initiative is an effort by the National Governors Association and the Council of Chief State School Officers designed to eliminate inconsistencies among states, districts and schools. The aim of this state-led program is to develop practices and criteria the entire nation can rally behind, so students can prepare for success in a global society.
My View: What a 21st-century science classroom should look like
In other words, a student can expect to graduate from a school in Florida and not have to worry about whether he or she has the knowledge, skills and dispositions required to get a job in Oregon or Maine or anywhere else.
So far, 45 out of 50 states have put their support behind the program, along with three U.S. territories. This is a great start, but it's only that – just a start.
The Common Core State Standards represent an admirable set of standards, but implementing them has its challenges. With the willingness of so many to adopt the standards for mathematics, this means teachers everywhere are suddenly saddled with a broad spectrum of new standards to teach. Some of these standards are unfamiliar even to the teachers.
Funding for teacher training is limited and many teachers don't have the time needed to develop a deep understanding of new concepts included in the standards. Worse still, given the usual pace at which school reform typically unfolds, developing high quality teaching materials that map to these standards could take several years. That's far too long to wait; we can't afford to let an entire generation of students miss out on these improvements.
This is the driving force behind my involvement in the creation of the Core Challenge, a program to support teacher planning so we can meet new Common Core State Standards for mathematics quickly and effectively. Bill Barnes (Howard County Public Schools), James Marquis (ClassFive), and I co-founded the Core Challenge this past school year in our home state of Maryland with the goal of improving the quality of mathematics education in the United States by creating an innovative learning community.
The Core Challenge, at its heart, focuses on educators. We have a wealth of incredible teachers across this country, all of whom have wonderful and unique teaching methods that should be easier to share widely.
Working from those goals, we created the Common Core Learning Community, a network of 150 passionate teachers willing to share their ideas. Based on the notion that teachers overwhelmingly prefer resources created by fellow teachers, we asked each participating educator to supply just one exemplary teaching idea to an online library.
The results were phenomenal. Already, dozens of teachers have submitted simple methods and illustrations, while some have found that other forms of rich media are more effective. Most teachers have submitted Livescribe "pencasts," using innovative smartpen technology to create interactive written material that displays in sync with recorded audio lessons. For subjects like mathematics, where having visual and symbolic representations on the page is vital, these pencasts have proven especially effective, with 160 such submissions to date.
Better still, these materials are available not just to teachers everywhere, but to parents and students as well. Parents who are curious about how their children are being taught have the chance to view lessons for themselves, and students who need a little bit of extra review or who want to learn further can access them here.
The program is off to an amazing start in Maryland, and we've already received interest from mathematics educators in other states such as Wisconsin, New Jersey, New York and Delaware to share content for the Core Challenge. Our goal isn't to try to pigeonhole educators into a single, narrow approach to teaching, but instead to ensure as many educators as possible have access to the tools they need to be truly effective in teaching concepts that meet the Common Core State Standards. To make this goal a reality, it is important to share ideas and collaborate.
Now with common standards, we'll all be on the same page, so teachers, parents and students across the country can discuss and share ideas to help each other teach and learn better.
The opinions expressed in this commentary are solely those of Jon Wray.