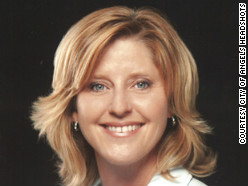 By Rebecca Mieliwocki, Special to CNN.
Editor's note: Rebecca Mieliwocki is a seventh grade English teacher in California who was chosen the 2012 National Teacher of the Year. The National Teacher of the Year is a project of the Council of Chief State School Officers.  You can follow Rebecca on Twitter @MrsMieliwocki.
(CNN) - Are you ready to be sneezed on? Cried on? Laughed at? Hugged to death? I sure hope so, dear newbie. Because what no one will tell you, besides me, is it's about to get very, very real all up in this place called the classroom. You're going to do phenomenally, but it's going to be challenging, frustrating and thrilling, often all three at once. I am so excited you've chosen to make teaching your life's work. My heart is literally racing with excitement and hope for you. It's going to change your life and you'll never be the same after day one.
It's imperative that you survive your first teaching experience so you can begin to thrive in the classroom. Teaching is such a kick-in-the-pants, joyous, gut-wrenching odyssey that it's only fair I share with you some tips, tricks and ideas to get you started on just the right foot.
1. Before you teach one lesson, create the systems by which your classroom will be run. You need procedures for how kids enter/exit the classroom, how kids volunteer to talk, move around and help out, places for paperwork to come in and go out, plans for how to manage absent students and their missing work, seating charts, supply centers, everything. Figure this all out as you set up your classroom and before you meet even one student.
You can always tweak and improve as you go and you'll find out quickly what you like and don't like. But classrooms without systems create challenges that can get even the best teachers into quagmires. Good systems allow your class to run smoothly so you can focus on what YOU do best: teach!
2. It's all about the pencil. It took me far too long to realize this, so I'm telling it to you up front. New teachers often get trapped in a struggle with kids over supplies: where they are, why they didn't bring them to class, losing them, borrowing them. It's exhausting and it often keeps you from doing what you need to be doing. In our zeal to teach readiness and responsibility we mistakenly make having supplies a hill we choose to fight for and die on. Stubborn teachers do and kids suffer.
FULL POST