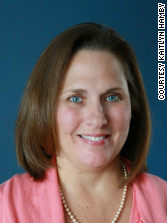 By Melissa Kicklighter, Special to CNN
Editor's note: Melissa Kicklighter is the Florida PTA incoming vice president for Regions and Councils and is actively involved in PTAat the local, district and state levels. She is a proud wife and mother of three children who attend Duval County public schools. She was recently honored at PTA Day at the White House as a "Champion of Change".
Thomas Edison said, "If we did all the things we were capable of doing, we would literally astound ourselves."
This quote reminds me of why parent engagement is so important. As parents we have to be willing to do everything possible to protect our children and assure their success. This begins with prenatal care, continues after birth to providing for a child's basic needs for health and safety and expands very quickly to educational and increased levels of emotional support.
When discussing these ideas with others, they agree that prenatal care, health, safety and emotional support are part of the responsibilities of a parent, but they see the educational needs of a child being the responsibility of teachers, schools or school districts. Education is typically referred to as something that children "receive" rather than something they actively seek or that we as parents need to participate in.
But, that could not be further from the truth.
This is a simple formula for any parent when thinking about their role in their child's education: Parent Engagement = Awareness + Action.
FULL POST