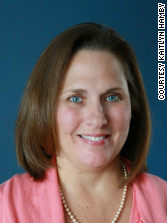 By Melissa Kicklighter, Special to CNN
Editor's note: Melissa Kicklighter is the Florida PTA incoming vice president for Regions and Councils and is actively involved in PTAat the local, district and state levels. She is a proud wife and mother of three children who attend Duval County public schools. She was recently honored at PTA Day at the White House as a "Champion of Change".
Thomas Edison said, "If we did all the things we were capable of doing, we would literally astound ourselves."
This quote reminds me of why parent engagement is so important. As parents we have to be willing to do everything possible to protect our children and assure their success. This begins with prenatal care, continues after birth to providing for a child's basic needs for health and safety and expands very quickly to educational and increased levels of emotional support.
When discussing these ideas with others, they agree that prenatal care, health, safety and emotional support are part of the responsibilities of a parent, but they see the educational needs of a child being the responsibility of teachers, schools or school districts. Education is typically referred to as something that children "receive" rather than something they actively seek or that we as parents need to participate in.
But, that could not be further from the truth.
This is a simple formula for any parent when thinking about their role in their child's education: Parent Engagement = Awareness + Action.

We parents are not the subject matter experts when it comes to curriculum or knowing specifically what our children need to learn in school at a particular grade level, but we are certainly critical stakeholders and no one knows our children better than we do. We need to position ourselves as partners with teachers and schools to make sure our children and all children are able to maximize their learning. It starts with becoming aware, but it must include the willingness to take action.
Awareness includes understanding everything from teacher classroom management practices and curriculum content to school policies and procedures. Your child's teacher knows how he or she wants their classroom to run daily, what projects or programs will be part of the year, and what your child needs to accomplish to successfully meet their goals. Be familiar with classroom terminology, so you can ask your child or the teacher about different parts of the school day. Understanding the curriculum standards and content allows you to have constructive conversations with your child about what they are learning, and it send the message to your child and teacher that what they do in the classroom matters to you, too.
All schools and school districts have extensive policies and procedures that they follow and are required to make available to you. Take the time to familiarize yourself with those documents and ask follow-up questions as needed. There may be a time when a situation occurs at your child's school, and you are not sure how it should be handled. Policies and procedures outlined in a school or school district handbook or online documents can be very helpful. School office staff and guidance counselors are there to assist, and your PTA leaders are another great resource.
Action means focused effort to make a difference, whether it is for your child or for all children. Minimally, we all have to make sure our children attend school each day and support their efforts. Action may be at the classroom level, the school level or beyond. There is no limit to what can be done, but it is up to you to take the first step to do it.
Here are a few simple steps to help you get involved in your child's education:
Meet your child's teacher and offer assistance.
This means attending orientation and/or open house. Introduce yourself, and be sure to state the name of your child, so the teacher can make the connection. Share your contact information and the best times to reach you. Find out how the teacher plans to communicate with you about your child's progress throughout the year, and offer the teacher the opportunity to contact you if they have a specific need for help. Feel free to set limits on what you can contribute, so the teacher knows in advance. No teacher expects one person or family to do everything!
Get involved with your school, especially the PTA!
This action provides you the opportunity to build relationships within and learn more about the whole school including faculty, school programs and services, etc. As a parent, it also helps to be connected to other parents to share ideas and concerns as they arise. PTA is a great way to go beyond thinking about the needs of your own child to being part of the greater good in caring for all of the children at your school. For more information about how to get involved with PTA at your school or within your community, please contact your school or go to the National PTA website. High achieving schools have high levels of family and community involvement.
Be an education advocate for all children, all of the time.
This means realizing the importance of this time in the life of a child and being willing to take on the broader and tougher issues. At a local level, this might mean seeing an issue at your own school that needs to be addressed with the administration, the school board or the city, such as the safety of children crossing a road while walking to school. Tackling this or any other issue that needs attention starts with researching the concern, then taking the time to write a letter, send an e-mail or make a phone call to a legislative or governmental decision maker to share your thoughts and information. A visit to a local, state or federal office might also be helpful to connect with a decision maker in person.
More often than not, parents look at these steps, and decide that the first one is easy enough because it directly impacts their child. Many consider the second step a viable option because parents want to have a deeper understanding of how their school operates and meet other involved parents. Many parents are willing to help out with schoolwide events periodically and hold leadership positions with limited responsibility and time commitments.
However, the third step is the one that most people avoid because they do not feel that they have the ability to influence decisions. The reality is that parents are the people who actually have the power to make a difference.
Advocacy is the ultimate level of action and engagement that we need all parents and families to be willing to participate in today. Education is changing faster than ever. With new standards and increased rigor, more is being asked of all of us. Students must work harder and smarter, and as parents we have to be in step with our children and schools to keep it all in balance.
We must be willing to help with the smallest tasks in the classrooms, but also fight for the resources necessary to provide innovative and positive educational opportunities for all children.
As parents, it is time to do more than we think we are capable of and truly astound ourselves!
The opinions expressed in this commentary are solely those of Melissa Kicklighter.