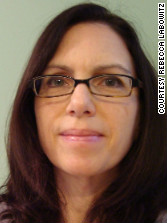 By Rebecca Labowitz, Special to CNN
Editor's Note: Rebecca Labowitz writes about the Chicago Public Schools on her blog CPSObsessed.com which has become a discussion board for parents and teachers in Chicago.  She began the blog in 2008 when her now fourth-grade son was entering kindergarten as a way to share information with other parents navigating school options in Chicago.
Parents of public school kids stayed up late Sunday night, glued to the TV and the Internet, waiting to find out whether they needed to make lunches, arrange backpacks, and get their kids hustled out the door in the morning.  Facebook alerts were flying fast and furious, similar to update I saw during the Olympics and the Oscars.  "She's coming out now!"  No names needed.
We all collectively were waiting for outcome of the weekend negotiation session between CPS and the Chicago Teachers Union – would our Chicago teachers call a strike?
Karen Lewis' announcement of the strike was not surprising as most parents who'd been keeping up with the events suspected that the two sides were still fairly far apart in their negotiations.  What was a little more surprising was the anger that started to mount immediately.  Many parents didn't seem to believe that CTU would actually pull the trigger and bring the school year to a halt.  Some parents feel inconvenienced, feel like the CTU is not working in the kids' best interest by calling the strike, and feel like both sides should have found a way to work something out.
I've heard comments from angry parents who feel that teachers should feel lucky to have their job – a job that many feel is well-paying and secure compared to workers in the private sector.  There is a palpable sense of exasperation that the teachers gave up, wouldn't budge, wouldn't even prioritize their list of demands.  Whether or not this was true, it was the impression that many parents had after watching the press interview Sunday evening.
Parents who regularly comment on my blog have spent time talking to teachers, learning more about what it's like to teach in an inner-city school with limited resources and a revolving door administration.  These parents realize that teachers are feeling disrespected lately both within CPS and as a profession as a whole.  Teachers are being blamed for a lot of the ills of the school system.  They're being asked to work longer, being asked to do a lot with very little.  Most are spending their own money on school supplies.  They tell stories about their students that will break your heart.  Those of us who have listened have certainly had our eyes opened to the realities of teaching in CPS.  Having summer break doesn't make it an easy gig.
FULL POST