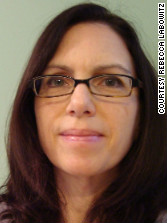 By Rebecca Labowitz, Special to CNN
Editor's Note: Rebecca Labowitz writes about the Chicago Public Schools on her blog CPSObsessed.com which has become a discussion board for parents and teachers in Chicago.  She began the blog in 2008 when her now fourth-grade son was entering kindergarten as a way to share information with other parents navigating school options in Chicago.
Parents of public school kids stayed up late Sunday night, glued to the TV and the Internet, waiting to find out whether they needed to make lunches, arrange backpacks, and get their kids hustled out the door in the morning.  Facebook alerts were flying fast and furious, similar to update I saw during the Olympics and the Oscars.  "She's coming out now!"  No names needed.
We all collectively were waiting for outcome of the weekend negotiation session between CPS and the Chicago Teachers Union – would our Chicago teachers call a strike?
Karen Lewis' announcement of the strike was not surprising as most parents who'd been keeping up with the events suspected that the two sides were still fairly far apart in their negotiations.  What was a little more surprising was the anger that started to mount immediately.  Many parents didn't seem to believe that CTU would actually pull the trigger and bring the school year to a halt.  Some parents feel inconvenienced, feel like the CTU is not working in the kids' best interest by calling the strike, and feel like both sides should have found a way to work something out.
I've heard comments from angry parents who feel that teachers should feel lucky to have their job – a job that many feel is well-paying and secure compared to workers in the private sector.  There is a palpable sense of exasperation that the teachers gave up, wouldn't budge, wouldn't even prioritize their list of demands.  Whether or not this was true, it was the impression that many parents had after watching the press interview Sunday evening.
Parents who regularly comment on my blog have spent time talking to teachers, learning more about what it's like to teach in an inner-city school with limited resources and a revolving door administration.  These parents realize that teachers are feeling disrespected lately both within CPS and as a profession as a whole.  Teachers are being blamed for a lot of the ills of the school system.  They're being asked to work longer, being asked to do a lot with very little.  Most are spending their own money on school supplies.  They tell stories about their students that will break your heart.  Those of us who have listened have certainly had our eyes opened to the realities of teaching in CPS.  Having summer break doesn't make it an easy gig.

As the school year drew closer, discussions centered on a few key topics:
• How hard is a teacher's job?
• Are teachers fairly paid?
• Can teachers really make a difference among the most at-risk kids?
• How can our school system overlook some of the basic materials that teachers need?
• What's the ideal length of the school day?
• Why can't parents be more accountable to help their kids succeed in school?
• Should teachers be expected to be nurses, counselors, and parents to students?
• Why isn't there more money to make our schools better?
• If we do make the improvements that teachers want, where will the money come from?
We found there is often not an easy answer, not one we all agree on.  Like many topics in this country, sentiments about education and unions can be quite polarizing.
The surprise I had after the press announcements was sensing the uptick in anger about the strike.  When push comes to shove and families are inconvenienced, when kids' schooling is put on hold, when student-athlete schedules are thrown off, people start to get mad.  When they see that the union leaders appear to have a disregard for negotiation, they get mad.  When they don't know what the situation will be day to day, they get mad.  When they realize that they have conflicting feelings for the wonderful teachers in their schools versus that of the CTU, they get mad.
There was a general expectation that during negotiations, each side would give a little.  Many parents want to see the CTU give a little.  Or at least learn more about what the CTU wants to meet their demands.  Parents I've heard from often agree with many of the demands of the CTU.  We DO need better schools.  We DO need smaller class sizes. We DO need teachers to feel respected and to feel motivated.  But some question whether striking is the way to get these changes to happen or whether there can be a more collaborative way to make it work that doesn't keep kids out of school.  Other parents are standing side-by-side with teachers on the picket lines.  We are a city of mixed opinions, for sure.
Tempers are going to be high for a while.  Teachers are mad and parents (and CPS) need to realize that.  Now parents are mad and are just going to get madder if the strike continues beyond this week.  CPS – well, I'm guessing they're mad too.  But despite all the challenges of CPS, most parents I know want to stick it out in the city.  And teachers really want to find a way to make CPS succeed.  We're all in it together, for better or for worse so we've got to find some common ground soon.
The opinions expressed in this commentary are solely those of Rebecca Labowitz.