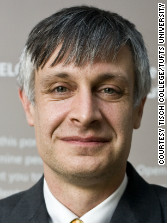 By Peter Levine, Special to CNN
Editor's note: Peter Levine is the Lincoln Filene Professor of Citizenship and Public Affairs and director of CIRCLE, the Center for Information and Research on Civic Learning and Engagement, part of Tufts University's Jonathan Tisch College of Citizenship and Public Service. Levine has published eight books, including "The Future of Democracy: Developing the Next Generation of American Citizens." He blogs daily at www.peterlevine.ws
(CNN) - I can vividly remember September 11, 2001, but today's fifth-graders were not even born on that day. For them, September 11 is history - and often, a topic in their history class. Most teachers use best-selling civics and American history textbooks that describe the attacks on New York and Washington. And as of last fall, 21 states specifically mentioned 9/11 in their social studies standards.
Those are results from a scan of state laws and textbooks conducted by William & Mary professor Jeremy Stoddard and University of Wisconsin-Madison professor Diana Hess. My organization, CIRCLE, published its study last year.  The authors tell me that not much has changed since then.
When we released the study, many readers expressed dismay that September 11 was mentioned in less than half of the states' standards - as if that meant that policymakers and educators did not care enough about terrorism. When lawmakers are concerned about any topic, they are often tempted to add it to the state's social studies standards. The Illinois Legislature, for instance, has passed bills requiring or encouraging social studies teachers to spend time on Leif Erickson, the Irish Potato Famine and the importance of trees and birds. So why not mandate teaching 9/11?
If I could personally pick what to teach in a high school classroom, I would make the civil rights movement a particularly high priority. The Southern Poverty Law Center gives 35 states as grade of "F" because their standards do not mention the civil rights movement (or only barely mention it).  But just because something is important does not mean that states should require all their teachers to cover it. Already, most state social studies standards are immense lists of topics, far too numerous to march through rapidly, let alone discuss in any depth. Specifying topics reduces the discretion of districts, schools and teachers, and may dampen their motivation.
Thus the most important back-to-school question about September 11 is not whether to require it in standards, but how to address it if teachers decide to discuss it at all.
We want our students to understand complex and significant events in context, to make and defend causal arguments, to form reasonable value judgments and to deliberate civilly and responsibly with people who disagree. These are intrinsically valuable aspects of citizenship. They are also activities that boost civic knowledge and engagement.
The attacks of 9/11 represent a serious topic, worthy of study. One reason to consider teaching it is that it happened relatively recently, and its consequences linger. Since American history is usually taught in chronological order, most teachers never reach modern times at all. Meanwhile, courses in government and civics tend to emphasize the original structure of the Constitution rather than current events. In a survey of young adults that we conducted in 2006, 41% recalled studying the Constitution and the U.S. system of government; only 11% remembered discussing current issues.
In our focus groups, young adults recall that their civics education was all about the remote past.  As a result, politics can seem distant and complete, as if there were little for today's students to do.
September 11 is by no means the only recent episode worthy of attention, but it is a good topic for investigation. If students are going to spend class time on it, I think the following principles should apply.
First, their thinking should be relatively dispassionate and scholarly. The major textbooks have evolved in that direction over the past decade. The first textbook editions rushed to press after the events of 2001 "uniformly presented America as the victim of a uniquely devastating attack and presented rich personal stories of the victims and iconic images of rubble, firefighters, and the American flag. That approach has now shifted to more dispassionate, but very brief, descriptions."
Even though September 11 remains charged with emotion, students should learn to investigate it in a scholarly way, with concern for evidence and multiple perspectives. That takes time; it is probably better to skip a topic entirely than to mention it superficially.
Second, students should grapple with complex and sometimes contentious issues. For example, the attacks of September 11 are clearly examples of terrorism, but that concept is not so easy to define. If it means a violent attack by civilians against civilians, then the definition excludes roadside bombs aimed at U.S. military convoys and the 2000 bombing of the USS Cole (which several textbooks cite as an example of terrorism). If terror includes any mass attack against civilians, then a strategic bombing campaign conducted by an air force is an example. The point is not that students should memorize the correct definition of terrorism, but that they should learn to reason and deliberate by addressing difficult questions, such as "What is terrorism?"
That is a controversial and divisive issue, which brings us to a third principle. Students should have experience addressing truly controversial topics, with guidance from teachers who try to serve as neutral facilitators. As a nation, we must learn to deal with disagreement. As we segregate into politically homogeneous communities and choose media that reinforce our own opinions, the social studies classroom is becoming an increasingly valuable space in which people can actually disagree and learn from their discussions. Even if there is consensus about September 11, many controversial questions arise regarding its aftermath. For example, were the Patriot Act, the U.S. intervention in Afghanistan and the Iraq war appropriate responses? These are questions that students should learn to investigate and deliberate.
Concerns about bias and indoctrination come from both right and left. I think conservatives have relatively little to worry about, because most social studies teachers hold moderate or center-right views. According to an American Enterprise Institute survey, 83% of social studies teachers see "the United States as a unique country that stands for something special in the world" and "just 1 percent of teachers want students to learn 'that the U.S. is a fundamentally flawed country.' " Liberals may not disagree with the majority of teachers, but if they do, they should still welcome discussion and inquiry, counting on students to introduce a diversity of perspectives.
If teachers do introduce controversial matters in class, some may present the issues in a biased way. Teachers need curricula, materials and training that help them present issues more neutrally. But I would rather accept a few cases of bias (including bias against my own political views) than make schools into politics-free zones. We need young people to learn to think and talk about difficult issues.
The opinions expressed in this commentary are solely those of Peter Levine.