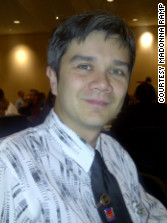 By Xian Barrett, Special to CNN
Editor's note: Xian Barrett teaches law and Chicago history at Gage Park High School in Chicago. In 2010 he was selected one of 10 Classroom Teaching Ambassador Fellows by the U.S. Department of Education. He can be found on Twitter at @xianb8.
Sunday night, as Chicago Teachers Union President Karen Lewis announced the first Chicago teachers' strike in 25 years, I posted a short piece explaining why I felt striking was the right decision.
I understood, especially in these tough economic times, that striking can be an unpopular choice, but I wrote it with some rage at the lack of empathy and understanding I felt as an educator. I wrote it with the hope people would understand that we made this tough choice in the interests of our students.
As I reflect back on the first day of the Chicago Teachers Union strike, I know many are still angry. I hope that those who are angry with us would put aside their party affiliation and personal opinions on unions. Some critics reminded me that this needs to be about the students. They are 100% correct. So I ask you to think of your own son or daughter or sister or brother sitting in a Chicago Public Schools classroom.
You wouldn't want your kids in 96-degree classrooms. You wouldn't want them without books or teachers for the first month of the year. You wouldn't want them tested over and over again instead of taught. You would want their teachers evaluated, but you wouldn't want their favorite teacher bullied or fired due to an inaccurately measured test.

In my blog post, I was replicating how many of my students feel every day. They are trying their hardest and they are angry at feeling judgment for their learning conditions rather than love and support for the honest effort they are putting in.
The same way that students lash out demanding that love and support with their actions in the classroom, the 10 minutes I spent writing my blog were a call for affirmation - a call of faith into the void hoping to get an affirming response.
And boy, did I ever. By midnight, my friends had reposted it. By 3 a.m. it had gone viral, and by 10 a.m. the next day major media outlets began calling. A day later, more than 20,000 people have read it on my blog and hundreds of thousands more have read its mirrors across the web.
In the meantime, thousands of people across the country have posted solidarity photos of themselves or their schools wearing red, thousands have marched in Chicago or elsewhere in support and more than 600 school communities have come together and marched in Chicago.
More than that, I spent the day with my Gage Park High School community. Our entire CTU staff came out to the picket line, wearing red. At 7:45 a.m., when students were supposed to report to school and be assigned to one of the Chicago Board of Education's student strike holding sites, they began to join the picket line instead. Dozens of students marched and reached out to the community. I didn't see any students enter the building or leave for the holding sites. Other students messaged or texted from home, saying that they were following the news. Some wrote their own pieces reflecting on the strike in their own voice that I'll post on my blog as the week progresses.
As I took media calls, my students also spoke with the media. Whenever education becomes the major news story, too often we silence student voices and we hear adults - and often ones who have very limited interactions with students - speculate how students feel. I think our students need to be seen and heard more. As they took calls, I listened at a distance to make sure they were learning but far enough away that they could speak freely and not be influenced by me. I am very proud of them.
Later in the afternoon, we headed downtown and met with thousands of other teachers, students and parents. It was a festive atmosphere; one that fully acknowledged the gravity of the situation but with pride that we are taking back our education system.
In the evening, I continued to take calls and read the thousands of messages and well wishes I received throughout the day. Some of the comments were still quite critical - anti-union, anti-teacher and even anti-student.
I believe that the first day showed that this is how both the teachers and the parents are thinking about the Chicago strike. All across the city, parents and students voted with their feet. For weeks, we have heard about Mayor Rahm Emanuel's "Children First" centers that he intended as substitutes for our students' regular classes. For the first time, the mayor's team has the opportunity to show how they would take care of students without the troublesome teachers butting in. Now they have their chance. But parents and students simply don't trust the district.
As reports have returned on the centers, we have heard that only dozens of the thousands assigned to each center have showed, and most of them have a ratio of one or more adults for every child who attends. At our school, the 50 students who arrived immediately joined our picket line. These are their teachers and they know which side they are on.
Opinion polls in Chicago show that parents trust their teachers to run their child's schools, not the district. By striking, we hope to honor that trust by fighting for policies to address the deep problems in our district. Schools need more social workers and other resources for students under stress due to violence, poverty and family problems; reasonably sized classes that will allow teachers to work effectively with our students and provide them with safe learning environments; and air conditioning for over-crowded, stifling classrooms.
One of my students wrote the following: "I have been watching the mayor's live press conferences and he keeps saying he doesn't want us to fail, but that's exactly what he's causing. He talks about charters and selective schools a lot, but never mentions anything about schools like Gage Park. How can we make him care about our schools?"
By striking, we are trying to get the mayor and our school board to face the problems in our neighborhood schools and provide us with the support we need to help our students.
At the start of day one, I felt angry and alone. On day two, I feel like our city and nation have wrapped themselves around educators, and I am ready for the next day of fighting for the schools Chicago and the nation's students deserve.
See you on the picket line.
The opinions expressed in this commentary are solely those of Xian Barrett.