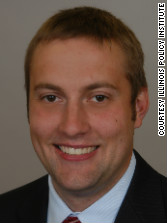 By Collin Hitt, Special to CNN.
Editor's note: Collin Hitt is a senior fellow at the Illinois Policy Institute, a nonpartisan research foundation, and a Doctoral Academy Fellow at the University of Arkansas Department of Education Reform.
Shortly after President Obama took his historic oath of office, a small group of people back in his home state of Illinois gathered to negotiate a key issue of school reform. Before substantive discussions even began, a representative from the Chicago Teachers Union interjected: "For us," she said, "this is about jobs."
It was not about kids. It was not about results. It was not even about the issue at hand, charter schools. She said it was about jobs.
I was part of those negotiations, stunned at such frank selfishness. In the three years since, a national debate over education reform has been renewed. It's become obvious that this stance was not unique to that moment, to that union or even to Illinois.
The battle over school reform is national, with support from both parties. The president has proposed reforms centered on better accountability for teachers and intense staffing changes at failing schools. Republicans have sought to give parents more school choice and more information.
But teachers unions have attempted to block those reforms at every turn. Exhibit A: this week's strike by the Chicago Teachers Union.
At that meeting in 2009, we debated whether the number of charter schools in Chicago should be allowed to increase. The call seemed obvious. More than 30,000 kids were enrolled at Chicago charter schools, with another 15,000 or so on waiting lists. The schools were open to everybody but didn't have enough seats. Research was piling up showing improved test scores and graduation rates for Chicago's charter school students, who were almost all poor, black or Hispanic. But the unions opposed the expansion because charter schools didn't have to hire union teachers. It didn't matter that even Obama supported charter schools.
FULL POST