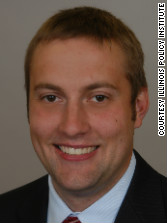 By Collin Hitt, Special to CNN.
Editor's note: Collin Hitt is a senior fellow at the Illinois Policy Institute, a nonpartisan research foundation, and a Doctoral Academy Fellow at the University of Arkansas Department of Education Reform.
Shortly after President Obama took his historic oath of office, a small group of people back in his home state of Illinois gathered to negotiate a key issue of school reform. Before substantive discussions even began, a representative from the Chicago Teachers Union interjected: "For us," she said, "this is about jobs."
It was not about kids. It was not about results. It was not even about the issue at hand, charter schools. She said it was about jobs.
I was part of those negotiations, stunned at such frank selfishness. In the three years since, a national debate over education reform has been renewed. It's become obvious that this stance was not unique to that moment, to that union or even to Illinois.
The battle over school reform is national, with support from both parties. The president has proposed reforms centered on better accountability for teachers and intense staffing changes at failing schools. Republicans have sought to give parents more school choice and more information.
But teachers unions have attempted to block those reforms at every turn. Exhibit A: this week's strike by the Chicago Teachers Union.
At that meeting in 2009, we debated whether the number of charter schools in Chicago should be allowed to increase. The call seemed obvious. More than 30,000 kids were enrolled at Chicago charter schools, with another 15,000 or so on waiting lists. The schools were open to everybody but didn't have enough seats. Research was piling up showing improved test scores and graduation rates for Chicago's charter school students, who were almost all poor, black or Hispanic. But the unions opposed the expansion because charter schools didn't have to hire union teachers. It didn't matter that even Obama supported charter schools.

Soon thereafter, the Obama administration would steward a massive stimulus program called Race to the Top. The federal government offered more than $4 billion to cash-strapped states and school districts. States could receive money based on applications that promised to revamp teacher accountability systems and to intervene in failing schools. But in some states, teachers unions refused the reforms, scuttling the applications. In states that did receive new money, such as California, unions opposed aggressive school turnaround efforts that required the very worst schools to replace most of their staff. The result? Federal turnaround dollars were wasted in most of the California schools where they were spent.
The president's top education reforms enjoyed bipartisan support. But the president was far more partisan on health care reform, which led to massive Republican victories in the midterm elections of 2010. This was especially pronounced at the state level, with a new wave of GOP governors and legislative majorities being swept into office.
The new Republican majorities had their own ideas for education reform. In Indiana, for example, Republican Gov. Mitch Daniels unveiled a sweeping education reform agenda, emboldened by strengthened majorities in his legislature. He proposed the largest school voucher program in the country's history. Charter schools were to be expanded to needy communities throughout the state. Schools would receive "A through F" ratings that every parent could understand. Students would be required to pass a reading test before being promoted from the third grade. And 21st-century technology would be used to customize education for the needs of individual children.
Teachers unions went crazy, convincing their small number of remaining Indiana legislative allies to flee the state, denying the legislature its quorum needed to take an official vote. The reforms languished for weeks before the refugee legislators returned home, under massive duress. The Daniels agenda passed, making Indiana – of all places – a national leader in the fight for education reform.
The most prominent new GOP governor was Scott Walker of Wisconsin. Little-noticed at the time of his election, Walker would soon become a national figure. He inherited a massive state deficit, impossible to balance without cuts in aid to local governments. But local school districts had no way of balancing their budgets without control of their labor costs. Walker, a former local government executive, knew that Wisconsin teachers unions would block local cost savings, necessitating tax hikes and cuts to student services. So Walker proposed restrictions on collective bargaining, giving school districts the freedom to make smart budget decisions. He also proposed an expansion of Milwaukee's popular school voucher program, which had produced promising results and significant financial savings.
The curbs to collective bargaining were anathema to teachers unions. Wisconsin was home to many of the nation's first government employee unions.
So the teacher unions became manic, nearly shutting down the statehouse in Madison with round-the-clock sit-ins. Walker's Republican allies passed the reforms anyway. The unions then launched a statewide campaign to recall the new governor. National teacher unions flooded the state with money and staff. Walker survived the election.
Walker's reforms are working. Districts have cut their fringe benefit costs by more than 15%, according to my colleague Bob Costrell in his forthcoming work for the George W. Bush Institute. Local property taxes have fallen, and the state budget is balanced. More kids in Milwaukee and Racine will enjoy school choice.
Appalled by the bitterness of his recall election, pundits and rival Democrats blamed Walker for the labor conflict in his state. Many blamed Republicans for their apathy toward government unions. But the recent teacher strike in Chicago shows that the battle in Wisconsin had less to do with Walker or his party and more to do with teachers unions and the desperate attempt to block all change.
On Monday, 30,000 Chicago teachers walked off the job, furious with the policies of Mayor Rahm Emanuel, a Democratic hero and Obama's former chief-of-staff. Emanuel aimed aggressively to extend Chicago's elementary school day, which barely lasts five hours. He ordered teachers to work more. They asked for more money. He then offered a 16% raise to their average salary of $71,000. That wasn't enough. So 350,000 students in Chicago are on the streets after a summer of stunning violence.
The Chicago Teachers Union wants the mayor to ignore a state law requiring that test scores be used to rate teacher performance, which ultimately would impact tenure. They want laid-off teachers to be hired back. Also, they're seeking to end layoffs created if the district consolidates 100 of its half-empty schools across the city. It's about jobs.
Across the country, there is a growing recognition of the need for change. Reforms of different kinds are all growing in popularity among voters of both parties. But unions are proudly standing in the way. And so it's no coincidence that unions have seen their approval ratings fall.
For voters, apparently, it's about the kids.
The opinions expressed in this commentary are solely those of Collin Hitt.