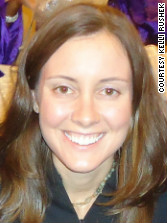 by Gina Caneva, Special to CNN
Editor's note: Gina Caneva is an eight-year veteran high school English teacher in Chicago Public Schools. Caneva is a Nationally Board Certified teacher at Lindblom Math and Science Academy and was recently awarded a fellowship with Teach Plus. She can be found on Twitter at @GinaCaneva.
(Chicago) - On day one of the Chicago teachers strike, I picketed with my fellow teachers outside of Lindblom Math and Science Academy in the Englewood community. Across the street, an African-American family sat outside a dilapidated black-and-white flat. Three school-aged boys played in the yard while we stood in red T-shirts.
Statistically speaking, if public education does not change these boys won't make it through college. Only 2% of African-American males graduate on time from a university after graduating from Chicago Public Schools.
Statistically speaking, if public education does not change these boys won't get into Lindblom Academy, a selective enrollment school now ranked 20th in Illinois, even though they live across the street. Only 11% of Lindblom's population resides in Englewood.
I couldn't help but think that the strike was both for them and not for them, that the terms discussed in the media—minor raises in pay, a freeze on healthcare, the percentage of teacher evaluations based on standardized tests—largely ignored them. Reforms for stronger teacher education programs and processes for retaining our strongest teachers not just our most experienced have not been central to this very public debate.

But then we walked to the busy corners of 63rd and Damen and later to 63rd and Ashland, in the most dangerous neighborhood in Chicago, a place where the media often report on violence but quickly disappear until the next shooting occurs. I was expecting to be booed in this area, especially in a recession. But we received the opposite reception.
Police officers, fire fighters and CTA workers honked for us. Truckers strong-armed their horns, parents with kids in their back seats waved in support, and parents taking their kids to charter schools gave us thumbs up. People on the streets of Englewood listened intently when we spoke about some elementary school classrooms having upwards of 40 students with few resources, and they told us to keep up the good fight.
The South Side where I have taught for the past eight years, the South Side where I have attended countless funerals for my students and their families, the South Side where my daughter will attend a CPS elementary school, has embraced me.
As I pumped my fist, I participated in this strike for social justice. The boisterous South Side reminded me of America's need for a worker's voice—a voice the baby booming generation once championed, a voice to challenge both political parties.
I remembered that the Chicago Teachers Union was created to fight social justice issues, particularly women's rights. In a vocation filled with women, it gave female teachers equal pay to their male counterparts while many other American professions did not. It still does, and it also ensures equality in pay against racial lines. In other vocations in this country, there is still a huge wage gap linked implicitly with race and/or gender, but so many of us have stopped fighting to change it.
I thought of my family members who silently watched their pensions turn into 401(k)s and of close friends who pay unimaginably high premiums for health care. They all felt powerless to change these circumstances. Why? Because as individuals, the fight is too big to take on alone.
If I did not have my union, I could have never fought for my salary, benefits and protection against a revolving door of under-qualified and over-burdened principals, let alone a better classroom for my students. I have my union to thank for all of this.
But as an eight-year veteran teacher, I'm also ambivalent because of my students' rights. I must challenge the traditional step and lane pay scale even though I'll receive the soon-to-be negotiated raise. At my last school, which served students primarily on free and reduced lunch, I was a department chair at the age of 28, and respected by my colleagues and administrators as one of the school's best. I made close to $20,000 less than a teacher who had 15 years on the job, who struggled with classroom management, who received repeated unsatisfactory ratings, and who was eventually removed through a process that took more than a year. The low-performing teacher was teaching students who needed more than what she was providing for too long, and she was making more money than she deserved. My union did that, too, and I can't deny that.
As we look to the future, teachers' unions must play a role in building a sustainable, dedicated teaching force, rather than a profession built of teachers who will come and go quickly because of low respect and poor working conditions. Workers' rights are a part of social justice. But fighting for social justice also means fighting for our children's rights in the terms of ensuring teacher quality. In order to improve public education, unions must fight for teachers' rights in the form of better working conditions, and for students' rights by looking critically at teacher performance alongside seniority in hiring practices and pay scales.
As we return to our classrooms, I stand in solidarity for students' rights, for workers' rights, and for my rights. I stand with my union. But I hope that in four years when my daughter is old enough to enter her Chicago Public Schools kindergarten classroom, the teacher standing in front is the strongest teacher possible, thanks to a union that upholds workers' rights and students' rights. I have the same hopes for the boys in Englewood and for all of the children of Chicago.
The opinions expressed in this commentary are solely those of Gina Caneva.