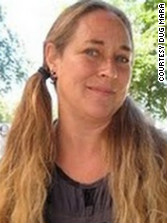 By Bonnie Kenaz-Mara, Special to CNN.
Editor's Note: Bonnie Kenaz-Mara is a Chicago-based writer, photographer and videographer and mother to two children. She blogs daily at http://www.chiilmama.com/.
My 9- and 11-year-old Chicago public school kids are getting schooled in politics, union organizing and grassroots protest in a very visual way this week. The streets of Chicago are running red as teachers wearing crimson shirts take to the streets for the first strike in a quarter of a century. They're joined by red-wearing parents, kids and supportive community members.
This isn't an "us vs. them" fight. Our teachers ARE our friends, neighbors and parents with their own kids in public schools right next to our own.  Where is Mr. Mayor?  Maybe he missed out on every one of those 50 prior meetings that Chicago Public Schools and Chicago Teachers Union had because he was so busy chauffeuring his kids to a well-funded, private Lab School.
The teachers have taken it to the streets, and the strike has exploded into the public consciousness.
As closed door negotiations remain at an impasse, eyes nationwide are on Chicago now.  Before Monday, September 10, if the public had heard the acronym CTU at all, they equated the moniker with "Counter Terrorist Unit." Now, CTU is better known as Chicago Teachers Union all over social media and the news.  Chicago's real CTU is the teachers, keeping 400,000 kids off the streets and educating them into crime-free futures as productive members of society.
My father was a product of the Chicago public schools in the '40s and '50s. He went on to an accounting degree at Northwestern and then a master's degree.   Now, two generations later, his grandchildren are in CPS.
I've had two kids in a fabulous Chicago public Montessori school since they were 3 years old, and the teachers are professional, committed and caring, and go above and beyond.   As the daughter of a teacher myself, I have the utmost respect for the invaluable work teachers do.

On the first day of the strike, the mood on the picket lines was festive and playful, despite the seriousness of the issues at hand.  At our school, many parents took the day off work and brought doughnuts and coffee. Children marched and sang alongside their teachers and made signs with markers and poster board on the sidewalks.   Neighbors near our school opened their homes to the teachers for bathroom breaks, and passing cars honked incessantly in solidarity.   There is energy and power in action, and it was exciting to see the overwhelming groundswell of support, when our teachers stood up to the corporate and political bullies and took necessary action.
This strike is not just about fair pay for 20% longer work days. This is about basic necessities for our kids and fixing difficult working conditions that make great teachers want to leave and make learning tough for the kids.
This year, my kids are packed in classrooms with 33 children, up from 28 last year, and if Mayor Rahm Emanuel has his way, high school classes of up to 55 students would be acceptable, according to the CTU.
It's 2012, and there are still numerous CPS schools without basics such as libraries, nurses and school counselors. Track E students returned to school August 13, when it was 96 degrees, and many classrooms lacked air conditioning. Parents need to provide most of the basics for the schools such as printer paper, paper goods and classroom supplies, in addition to kids' personal school supplies.
Despite underfunding, my kids have thrived in Chicago public schools, both exceeding standards on tests.
My 11-year-old son scored in the 99th percentile on the ISAT.  But regurgitating facts isn't learning, and upping the quantity of tests is stressful and counterproductive.  We're in a unique position as a "Public Montessori" family.   Under CPS dictates, the kids get standardized tests and grades, but pure Montessori doesn't do testing or grades. They measure kids' progress on a continuum with an I for introduced, D for developing and M for mastered.  The guys who invented Google were Montessori educated, and they're unarguably successful by every standard of our society.  We have the hybrid kids; the best of both worlds.  They have the experience of test taking, so it won't be so scary later, but teaching to testing is not a huge focus. If CPS has its way, it will have to be.
Our kids have planted classroom gardens and learned public speaking by researching and debating hot-button topics such as gay marriage, child slavery and whether Barbie is detrimental to kids' self image.
They've done community service and volunteerism through the school and learned multiculturalism by participating in Day of the Dead Celebrations, and having guests from around the world come in to teach on their countries.   They've taken numerous field trips to see theatrical productions and learn ecology in the woods.
They've designed architecture in art, Native American buildings, Chinese ink scrolls, illusions and studied and emulated famous artists.  They've sung songs of the week and analyzed the lyrics for figurative language and learned about musicians and musical genres.  These things will never be quantifiable on a standardized test, but these are the types of wonderful, well-rounded educating that keep the kids engaged and excited about learning.  They're growing their brains, truly learning HOW to think and reason, and experiencing hands-on learning.  This is hugely important to our family and the teachers we know, and it's a key point in the current walkout.
The teachers we know spend countless hours of their own time developing creative lesson plans, grading students' work and even buying basic supplies out of their own pockets.   I'm amazed that the Chicago teachers are being vilified by much mainstream media in this conflict.   We don't feel like our kids have been abandoned.   I'm proud that my kids are able to see their role models taking a stand for themselves and their students' well being.
Our family emphatically supports the CPS teachers in this strike and hopes for a quick, equitable resolution.  We've got their backs, no matter how long it takes to reach a reasonable agreement.  Numerous "strike camps" have sprung up, ranging from free park district child care to a wide range of wonderful, educational camps.  Chicago kids can do camps in indie film immersion at Facets Multimedia, theater at Adventure Stage, Spanish language at Multilingual Chicago, role play in a minicity at Journey World, run by the Girl Scouts but open to all, and more.  The whole city of Chicago has stepped up to make sure our children have fun, enriching places to be while our teachers take the time to take care of business and let their voices be heard on the picket lines.
We fully believe the teachers have our kids' best interest at heart, and we encourage them to stand their ground as many days as necessary.
The opinions expressed in this commentary are solely those of Bonnie Kenaz-Mara.