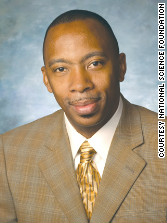 By Calvin Mackie, Special to CNN
Editor's note:  Calvin Mackie is an author, speaker, former engineering professor and technology entrepreneur. He graduated from high school with low SAT scores that required him to take special remedial classes before he was admitted to Morehouse College. He has since earned a Ph.D. in mechanical engineering, received the Presidential Award for Excellence in Science, Mathematics and Engineering Mentoring, and inspired thousands of students and educators across the country.
As a mechanical engineer with a Ph.D., a motivational STEM speaker and a former college professor, you'd probably be surprised to hear that I think education is useless.
In America, the education system has moved away from developing citizens to serve their fellow man to the unadulterated pursuit of standardized success at any cost. Mixed in with a sea of social change and celebrity obsession, somehow we've all lost sight of the goal of education: creating passionate students who are employable, teachable and adaptable in a dynamic world. Students are turned off for a number of reasons right now.
To get back on track, we must recognize that education is useless if students aren't thirsty for it!
I'll always remember this lesson that my grandma and grandpa taught me when I was a young kid. I was trying to force a pig to eat the slop I had prepared for him, when my uneducated but wise grandmother stated the truism, "Baby, you can lead a horse to water, but you can't make him drink!"
Much like the pig, today's students don't want the education we have prepared. They either aren't hungry or they've gotten their fill from somewhere else. In response to my grandma, my grandpa yelled back, "Yeah, you can't make him drink, but you sure can get him thirsty!"
FULL POST