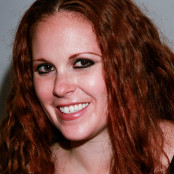 By Robyn Barberry, Special to CNN
Editor's note: Robyn Barberry teaches English at an alternative high school and a community college in Maryland. With her husband, she manages Legends of the Fog, a haunted attraction with more than 200 teen volunteers. She has an Master of Fine Arts in creative nonfiction from Goucher College and blogs about motherhood for The Catholic Review.
(CNN) – On the first day of classes late last month, I kissed my little boys goodbye and updated my Facebook status: "Wishing all my teacher friends a happy new school year!" I rushed to my classroom at an alternative high school near my home outside of Baltimore. When I turned on the LCD projector, a soft glow of dust-speckled light hit the stark white screen, and displayed the words "Welcome back!" I was prepared for everything except what happened.
When I was leaving the office, the school resource officer stopped me.
"There was a school shooting today...in Perry Hall," he told me.
I must have stared at him for an entire minute before I could speak.
Shootings didn't happen anywhere on the first day of school. Certainly not in Perry Hall.
The officer was armed with a badge, combat training and a service weapon, and he wasn't prepared for this, either. He said a lone gunman had shot one person in the back, and that he'd already been apprehended. There was no word on the victim's condition.
This wasn't the way the first day of school is supposed to be. The beginning of a new academic year offers a clean slate for teachers and students alike. We debut new, improved versions of ourselves. "This year we will shine," we convince each other. Dreams like this are never deferred by the crack of a shotgun across a school cafeteria on the first day of school.