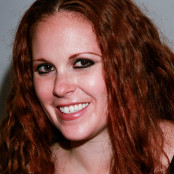 By Robyn Barberry, Special to CNN
Editor's note: Robyn Barberry teaches English at an alternative high school and a community college in Maryland. With her husband, she manages Legends of the Fog, a haunted attraction with more than 200 teen volunteers. She has an Master of Fine Arts in creative nonfiction from Goucher College and blogs about motherhood for The Catholic Review.
(CNN) – On the first day of classes late last month, I kissed my little boys goodbye and updated my Facebook status: "Wishing all my teacher friends a happy new school year!" I rushed to my classroom at an alternative high school near my home outside of Baltimore. When I turned on the LCD projector, a soft glow of dust-speckled light hit the stark white screen, and displayed the words "Welcome back!" I was prepared for everything except what happened.
When I was leaving the office, the school resource officer stopped me.
"There was a school shooting today...in Perry Hall," he told me.
I must have stared at him for an entire minute before I could speak.
Shootings didn't happen anywhere on the first day of school. Certainly not in Perry Hall.
The officer was armed with a badge, combat training and a service weapon, and he wasn't prepared for this, either. He said a lone gunman had shot one person in the back, and that he'd already been apprehended. There was no word on the victim's condition.
This wasn't the way the first day of school is supposed to be. The beginning of a new academic year offers a clean slate for teachers and students alike. We debut new, improved versions of ourselves. "This year we will shine," we convince each other. Dreams like this are never deferred by the crack of a shotgun across a school cafeteria on the first day of school.
I thought of my friend who teaches chemistry in Perry Hall. I'd tagged him in my Facebook status update before I left the house that morning, and now this. I was grateful later to get a text message that he was on lockdown in his classroom, safe and awaiting evacuation.
I thought of my boys. I called my mom, who was watching them. I needed to hear their voices. I needed to hear them breathing. I needed to know if this was real and that they were OK. I needed to know I was OK.
It had happened, but not in my school. I still had a job to do.
I did not talk to my students about the shooting. It was our first day together, and I didn't want to disrupt our opportunity to bond. My students and I spent the afternoon on John Updike's "Ex-Basketball Player," paired with a discussion about the recent sentencing of basketball star Tony Farmer. The theme of the day was avoiding self-destructive decisions.
Still, I worried. I was surrounded by a number of students with histories of violent behavior. If it could happen 20 minutes away in Perry Hall, why couldn't it happen here? Teachers are always on edge after a violent school incident, no matter where they are or how far away it occurred.
I became a teacher to help kids like the alleged shooter, 15-year-old Robert Gladden Jr., find constructive solutions to their problems through reading, writing, and the arts. It's a skill set my troubled teens need academically and emotionally, and one I have already begun to share with my own sons, who are too young for school.
I treat students the way I'd want my children treated. I listen to them and give honest advice. I challenge and encourage them. I respect their individuality. I keep them safe from harm, even if it means shielding them from each other or from themselves. It's an easy perspective to have, considering I've never been forced to make a life or death decision during the school day.
When I read the news stories about the Perry Hall incident, I learned a guidance counselor, Jesse Wasmer, had restrained the alleged shooter and captured the gun after a second shot was fired.
If faced with the same scenario, would I have the courage to put my life on the line to protect my students? Or would I be obligated to protect myself for the sake of my own children? What would I want my sons' teachers to do for them in my absence?
Above all, we want to be prepared for events like this. But, how could Perry Hall's teachers, students and parents anticipate a shooting halfway through the first day of school? How can you look for warning signs on the day you're just learning each other's names?
The American school system has become so focused on attaching numbers and labels to children that we've forgotten about individuality. We've devalued independent thinking in the world of multiple choices, but one right answer.
Strides in science and math are essential to our country's future in our global economy, but without humanity and creativity, how can we progress?
It's time for the pendulum of American educational philosophy to stop swinging and start balancing in a way that accounts for all of our students' needs.
In the push for achievement, we've lost sight of the emotional needs that plague many young people. They're drowning. We're watching from the shore, training them to swim laps alongside their peers with the expectation that they will figure out how to stay afloat on their own.
Gladden was described in local media reports as "smart," but evidently, he was unstable, too. Students like him tend to disappear in a world where good grades and test scores mean everything is OK.
His Facebook status update before he left for school was, in many ways, the opposite of mine: "First day of school, last day of my life."
We all need to be more vigilant about what kids are saying on social media, in their writing, and in their art. These acts of expression offer us windows into a child's psyche. Sometimes we are witness to a warning. Sometimes we can intervene.
Safe schools start with every student knowing that someone cares about his or her well-being first, followed by academic achievement. We must create a safe culture of belonging for all students.
As a teacher, that's what I hope to offer other people's children. As a mother, that's what I hope teachers will offer my own children.
In a sense, every school shooting is an act of terrorism because fear interferes with the way people live their day-to-day lives. I wondered how many Perry Hall students– especially freshmen, who were likely scared of high school to begin with – stayed home the second day of classes.
I was in high school when the shooting at Columbine High School in Colorado caught the nation's attention. I begged my mom to let me stay home for the rest of the week. She taught me that I couldn't live my life hiding in fear.
I pray that my students, my sons and I are never part of a story like the one those photographs told. Were it to happen to any of us, I'd pray for the courage to make the right decision and the strength to handle the consequences.
Weeks after the shooting, we've learned that the victim, 17-year-old Perry Hall student Daniel Bowery, is recovering.
As parents and teachers, we have the overwhelming job of preparing children to be adults. For most of us, that means sending children to school with the expectation that they will return home unscathed, in possession of meaningful new knowledge, and inspired to be better human beings. It's never guaranteed, but we act in good faith.
Being Mrs.Barberry to other people's children and mommy to my own children requires that I balance two opposing beliefs in a philosophy I like to call realistic optimism. In facing life's fragility, I must keep a constant vigil on the dangers of our world. Yet, I must suspend my fears for long enough to believe the future will be bright.
The opinions expressed are solely those of Robyn Barberry.