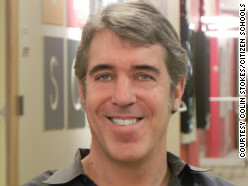 By Eric Schwarz, Special to CNN.
Editor's Note: Eric Schwarz is the co-founder and CEO of Citizen Schools, a nonprofit organization that partners with middle schools to expand the learning day for children in low-income communities across the country. The organization has been recognized as a national example by the White House and the U.S. Department of Education. Schwarz is the author of "Realizing the American Dream: Historical Scorecard, Current Challenges, Future Opportunities," a widely cited essay examining social change efforts, and co-editor of The Case for Twenty-First Century Learning.
In 1995, in a concept paper for a new nonprofit organization, I wrote that, "…we need to stop bashing schools and stop expecting school teachers to perform miracles." We know that most teachers across the country are putting in long hours, many of which are off-the-clock, working hard to provide students with a great education.
Sadly, for too many of their students, it's not enough.
The achievement gap between low-income students and their higher-income peers is almost twice what it was when I grew up in the 1960s and '70s. About one in four American students, with much higher rates among minority and low-income youth, do not graduate from high school. In the face of persistent achievement and opportunity gaps, the traditional school day is failing our most vulnerable children.
As a result, schools and school districts across the country are looking to add more quality learning time to the school day in an effort to help those students who are falling behind. According to Mike Sabin, former principal of the EdwardsMiddle School in Boston where more learning time helped the school close the achievement gap, "When you're letting your kids go at 1:30 in the afternoon and they're not achieving yet, it's fairly obvious that using the afternoon is something you have to do."
Too often, however, in the debate over longer school days, the conversation turns to the logistics of how teachers will staff the extra hours. School districts and teachers unions have gone to battle over the details of how many hours teachers will be required to work and how they will be compensated. The good news is that the burden of a longer school day does not have to fall solely on the backs of traditional teachers.