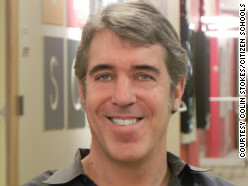 By Eric Schwarz, Special to CNN.
Editor's Note: Eric Schwarz is the co-founder and CEO of Citizen Schools, a nonprofit organization that partners with middle schools to expand the learning day for children in low-income communities across the country. The organization has been recognized as a national example by the White House and the U.S. Department of Education. Schwarz is the author of "Realizing the American Dream: Historical Scorecard, Current Challenges, Future Opportunities," a widely cited essay examining social change efforts, and co-editor of The Case for Twenty-First Century Learning.
In 1995, in a concept paper for a new nonprofit organization, I wrote that, "…we need to stop bashing schools and stop expecting school teachers to perform miracles." We know that most teachers across the country are putting in long hours, many of which are off-the-clock, working hard to provide students with a great education.
Sadly, for too many of their students, it's not enough.
The achievement gap between low-income students and their higher-income peers is almost twice what it was when I grew up in the 1960s and '70s. About one in four American students, with much higher rates among minority and low-income youth, do not graduate from high school. In the face of persistent achievement and opportunity gaps, the traditional school day is failing our most vulnerable children.
As a result, schools and school districts across the country are looking to add more quality learning time to the school day in an effort to help those students who are falling behind. According to Mike Sabin, former principal of the EdwardsMiddle School in Boston where more learning time helped the school close the achievement gap, "When you're letting your kids go at 1:30 in the afternoon and they're not achieving yet, it's fairly obvious that using the afternoon is something you have to do."
Too often, however, in the debate over longer school days, the conversation turns to the logistics of how teachers will staff the extra hours. School districts and teachers unions have gone to battle over the details of how many hours teachers will be required to work and how they will be compensated. The good news is that the burden of a longer school day does not have to fall solely on the backs of traditional teachers.
While districts and unions have debated if and how to lengthen the school day, there are dozens of pioneering schools that have moved forward with innovative approaches to lengthening the day. More than 20 middle schools in eight states are partnering with Citizen Schools, the organization I founded, to add three mandatory hours to the school day with the support of an army of AmeriCorps national service fellows and community volunteers. This "second shift" of educators lead academic practice sessions, help students with homework, connect with parents, and teach apprenticeships where students work on hands-on projects with professionals from the community.
Before ELT, our partner schools made, on average, zero or minimal progress on building student proficiency on standardized tests, well below their districts' averages. Per a recently released report on year one of Citizen Schools' national pilot ELT initiative, students in partner schools averaged an annual 8.3-percentage point gain on state standardized exams in math and a 2.3-point gain in English Language Arts. These results significantly exceeded the rates of improvement prior to implementing ELT and the rates of improvement across the host districts. As Citizen Schools continues to gather data on year two of the initiative, we are seeing significant gains in student achievement similar to year one.
It's not just Citizen Schools that is working on inventive approaches to lengthening the day. Additional schools have partnered with other community organizations like The After-School Corporation (TASC) and Building Educated Leaders for Life (BELL) to provide more learning time for kids and evidence has shown that these partnerships are working. TASC conducted a three-year pilot program in New York City in which students outperformed city and state peers in improving math and English language arts proficiency, and teachers reported that student learning improved. Evaluations have shown that BELL has a significant, positive impact on students' academic skills.
Providing students with more time to learn critical skills and participate in engaging projects that get them excited about school can help teachers with their day-to-day work. According to Lisa Nelson, principal at Isaac Newton Middle School in New York City, "Now that we are implementing ELT, our teachers are more effective because all their students have completed their homework, have practiced academic skills and have new reasons to care about school and see its relevance to their future."
In the school's first year of partnering with Citizen Schools to lengthen the school day, Isaac Newton Middle School was able to increase math proficiency on the state exam by 26 percentage points and increase English language arts by 17 percentage points. These are the kind of results an entire school community can get excited about.
There is no denying that access to excellent teachers is a critical factor in helping students succeed. In some cases, however, even the best teachers need support to help reinforce the good work they are doing. One way to do this is to provide their students with more time to learn and fill that time with quality learning experiences that help drive student achievement.
Through the proven models outlined above, we can do this without burning out teachers who are already working long hours.
The opinions expressed in this commentary are solely those of Eric Schwarz.