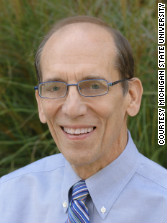 By William H. Schmidt, Special to CNN
Editor's note: William H. Schmidt is a university distinguished professor at Michigan State University. He serves as co director of the Education Policy Center, co-director of the U.S. China Center for Research and holds faculty appointments in statistics and education. He has co-written eight books, including "Why Schools Matter," "Teacher Education Matters" and his latest book, "Inequality for All." 
Myths have a powerful ability to shape our understanding of the world, sometimes for the worse. There are three myths about schooling in America that have distorted how we view education and compromised our efforts to improve it. Dispelling these myths is the critical first step to ensuring that children learn the content, skills, problem-solving and reasoning abilities essential for today's world.
Myth No. 1: Everyone has an equal chance to succeed in school.
Americans see our country as the land of opportunity, where with hard work anyone can succeed in life. Education has always been one of the key parts of this idea, providing a "level playing field" so students from every walk of life can go to school, work hard and make something of themselves.
I absolutely agree that education should serve this role, and I wish that today's system managed to live up to this fundamental responsibility. Unfortunately, it doesn't. The sad truth is that schooling in America is like a game of chance where the opportunities are arbitrarily determined by where a student lives, the school they are assigned to, the teacher they have or the textbook they're given.
If you've been following debates about education, you're probably aware that there are big inequities in how much money schools get, how good the teachers are and the kinds of skills children have when they first arrive at school. What doesn't get very much attention is what I call equality of opportunity to learn, which is just another way of saying that every student should have the chance to learn challenging content.
It's a simple idea with profound consequences. Whatever the resources, the quality of teachers, or the talent of students, if children are never exposed to strong mathematics (for example), how can they be expected to learn it? If they learn about a topic years after their peers, how are they ever supposed to catch up? Well, the fact is they don't. Two children could go to the same school and are in the same grade, are both enrolled in a class called "Algebra I" and even have the same textbook, but one could be learning algebra and the other could be learning basic arithmetic.
Myth No. 2: It's only a problem for poor and minority students.
Another myth says that inequality of educational opportunity might be a problem, but not for most students, certainly not for students from middle-class suburban families. This belief is also sadly mistaken. Maybe a generation ago the majority of students had an equal chance at learning challenging material (although I rather doubt it), but research today demonstrates conclusively that the problem of unequal learning opportunities threatens students from all backgrounds.
I have two pieces of evidence to back up this claim. First, the widespread use of tracking in elementary and middle school – the practice of assigning students to classrooms with different content based on their perceived level of ability. In a 2009 study using data from the Trends in International Mathematics and Science Study, we found that nearly three quarters(73%)of eighth-grade students are tracked in some way. In addition, students placed in a lower track aren't likely to catch up with their peers; in fact low performers do worse in tracked schools.
Second, as part of a study of school districts in several states we looked at exactly what students were learning in different classrooms. What we found was startling: The biggest variation in opportunity to learn is in middle-income school districts, as detailed in my book, "Inequality for All."
Myth No. 3: There's nothing we can do about it.
Now for the good news. Many people, when they learn that there is such extreme inequality in schools, throw up their hands in despair. The problem seems so vast, so pervasive, that there's nothing to be done.
Not so. Although some of the roots of educational inequality, like poverty, are very hard to solve, ensuring greater opportunities to learn is really quite feasible. Today there is a major movement to improve the quality of mathematics and language arts curricula called the Common Core State Standards, which has been adopted by nearly every state. Most of the focus about the Common Core has been about how it might improve average test scores, but another benefit of the Common Core is that it is also a great way to promote greater equality in education by ensuring that every student in every classroom is exposed to rigorous content. Effectively implementing these new standards is going to be a very big task, but one that will take a long step toward giving all students an equal opportunity to learn.
The opinions expressed in this commentary are solely those of William H. Schmidt.