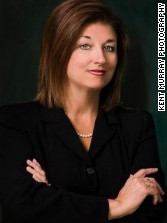 By Cindi Rigsbee, Special to CNN
Editor's Note: Cindi Rigsbee is the 2009 North Carolina Teacher of the Year and a National Teacher of the Year Finalist. A National Board Certified Teacher, Cindi is the author of Finding Mrs. Warnecke: The Difference Teachers Make. She is also a member of the Center for Teaching Quality's Teacher Leaders Network.  Her website is cindirigsbee.com.
Recently I've had the honor of watching children take a monumental step in their lives; I've watched them begin middle school. Believe me, there is nothing like the face of a sixth-grader, fresh from being the oldest and tallest at the elementary school, as they walk into an enormous middle school and try to master a schedule that moves them from class to class and struggle with a combination lock that fights back. Just today I recognized panic on a face, and after some investigation I understood: the lunchbox was missing!
But not to worry. These guys will be fine. In no time, they'll be attending their first school dance with their friends, cheering on the upper classmen at sporting events, and proudly playing their shiny new band instruments at a concert. Educators in the building will support them and nurture them, and soon they'll be independent and self-sufficient.
Sometimes the real concern is not about what happens inside the middle or high school. The real concern is centered on the wonderful people who send their kids to the bus stop or drop them off at school and then leave to go about their jobs and daily routines. On many days they count down the hours waiting anxiously to ask, "How was your day? What did you learn? Have you made any friends?"
The ones who can be the most anxious? The parents.
As an educator who hangs out in a middle school hallway on a daily basis, and as a parent who hasn't forgotten my children's middle school and high school years, I believe there are some strategies that may soothe your anxiety somewhat. Here's how to make the transition easier … for you and for your child.
FULL POST