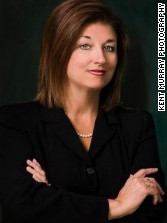 By Cindi Rigsbee, Special to CNN
Editor's Note: Cindi Rigsbee is the 2009 North Carolina Teacher of the Year and a National Teacher of the Year Finalist. A National Board Certified Teacher, Cindi is the author of Finding Mrs. Warnecke: The Difference Teachers Make. She is also a member of the Center for Teaching Quality's Teacher Leaders Network.  Her website is cindirigsbee.com.
Recently I've had the honor of watching children take a monumental step in their lives; I've watched them begin middle school. Believe me, there is nothing like the face of a sixth-grader, fresh from being the oldest and tallest at the elementary school, as they walk into an enormous middle school and try to master a schedule that moves them from class to class and struggle with a combination lock that fights back. Just today I recognized panic on a face, and after some investigation I understood: the lunchbox was missing!
But not to worry. These guys will be fine. In no time, they'll be attending their first school dance with their friends, cheering on the upper classmen at sporting events, and proudly playing their shiny new band instruments at a concert. Educators in the building will support them and nurture them, and soon they'll be independent and self-sufficient.
Sometimes the real concern is not about what happens inside the middle or high school. The real concern is centered on the wonderful people who send their kids to the bus stop or drop them off at school and then leave to go about their jobs and daily routines. On many days they count down the hours waiting anxiously to ask, "How was your day? What did you learn? Have you made any friends?"
The ones who can be the most anxious? The parents.
As an educator who hangs out in a middle school hallway on a daily basis, and as a parent who hasn't forgotten my children's middle school and high school years, I believe there are some strategies that may soothe your anxiety somewhat. Here's how to make the transition easier … for you and for your child.

Communicate
Talking to a child between the ages of 11 and 18 is difficult if you actually expect an answer. How many times did I, as a parent, ask, "What did you learn today?" only to hear, "Nothing." Nothing! Apparently there was NO learning for 180 days in the school! Now I know the way to handle the vague mumblings from our middle school kids: Make sure your questions are specific.
Instead of "What did you learn today?" try "What did Mrs. Watson cover in social studies during Core 3?" Once they are able to share, "We identified continents," the door is open to delve into the actual learning experience.
Another idea is to make a game out of it. 3-2-1 works well at times like this: "OK, tell me three things your teachers covered today, tell me two things you already knew about the lesson when you got there, and tell me one thing you still have a question about." Make it a competition between siblings if necessary, but any way you can manage to get pre-teens and teenagers to open up, the better.
In addition, watch for signs of stress that can be brought on by bullies, conflicts with a teacher, and frustration with school work. Asking the right questions during times like these can prevent problems from becoming more serious later. I once had to intervene when my sixth-grade son was being stuffed into a locker, but it was only after careful prodding that I was able to put the pieces of that story together!
Live a parallel life
It is very important for parents to be involved in the school, but it's at the middle and high school levels that students begin to long for their independence. I recommend that parents stay active in a school without actually hovering over their own kids. For example, I worked in the concession stand during football games at my children's high school. I was THERE, right where they were, but I was busy, not to mention removed from the spectators, and therefore didn't "suffocate" them. I was there to pay for a slice of pizza for them but not there to provide a running commentary on their classmates' behavior, choice of hair style, or selection of significant other. I was nearby, not on top of them. Is there ever a time to hover? Absolutely. When your child is making inappropriate (or dangerous) choices, or when any other serious problem arises, throw the whole "parallel" idea out the window. But under normal circumstances, making yourself a non-intrusive part of their world keeps you connected but not alienated.
For example, be sure to show up on standardized testing day, to help out in another class. Chaperone a field trip and ask to guide a group that doesn't include your child but instead includes his/her classmates. Show up at school landscaping day on a Saturday while your teen is still asleep. All of these practices show you care about your child's education, but you understand independence is an important rite of passage at this age.
Provide an atmosphere conducive to organization
Children who move from one elementary classroom to six middle and high school teachers sometimes struggle with organization. You can assist by ensuring there is a system in place that allows kids to get homework done, papers signed, and information shared. First of all, a schedule is so important! Even in these days of ball practices and dance rehearsals, it's easy enough to provide a quiet place for homework to be completed as soon as everyone arrives home. And making sure the backpack is zipped and ready by the door, clothes are laid out, and lunches are packed can make those chaotic mornings a little less hectic.
Resist the urge, though, to clean out the Black Hole of wadded-up papers that lives in the backpack. I never mastered this strategy myself and was blamed for invasion of privacy on more than one occasion. But assisting a child through a backpack, and even locker, cleanout can produce a mountain of assignments that haven't been submitted!
In short, be involved in your pre-teen or teenager's life as much as you can without them feeling the need to push you away. Finding that balance will make the transition from elementary to secondary school easier for parents, students, and teachers.
The opinions expressed in this commentary are solely those of Cindi Rigsbee.