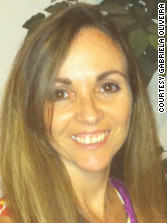 By Alessandra Oliveira, Special to CNN
Editor's Note: Alessandra Oliveira is a wife, mother, and blogger who writes about home-schooling her daughter on her blog, Adventures of a Homeschool Mom.
To decide to home-school a child is not something to be taken lightly. Parents have to consider the child's needs first and foremost. Other important considerations are curriculum choice, socialization, financial strain, time commitment, and personal sacrifices. One big question that needs to be answered is "Why do I want to home school my child?"
Among the reasons some parents choose to home-school are: Dissatisfaction with traditional schools, religious beliefs, bullying, ability to custom-design learning for their child, and a desire to spend more time with their children.
I started home-schooling my daughter when she entered first grade. I call myself an "accidental" home-schooler because I didn't really plan to home-school. I fell into it due to circumstances. Looking back, I know I made the absolute right decision for our family. While my husband and I are totally committed to providing a wonderful, supportive learning environment for our daughter, not everyone in our family has been as enthusiastic. I have faced countless questions, odd looks, even criticism about our decision to home-school. Some people try to be polite and offer advice; others will ask the most inappropriate questions. With time, I have learned to deal with all of this scrutiny and misguided input. I am now able to answer questions and explain my reasoning without sounding defensive nor apologetic.
I must admit that a lot of what I hear are things that I actually thought before I started to home-school. I had a lot of misgivings about home-schoolers simply because I did not have enough information. Here, I have compiled some of the most common misconceptions about homes-schooled kids. These are all things that I have faced along my own home-schooling journey. I hope to help dispel some of these misconceptions with a dose of reality from someone who's "been there, done that."
FULL POST