By Jamie Gumbrecht, CNN
Highland Park, Michigan (CNN) - A few weeks before school began here, parents filed into the high school cafeteria to meet the people just hired to revamp one of the state's worst-performing districts: their own.
They came with questions. What time would the school day start? What were these new uniforms they'd heard about? Would all the schools stay open? Would the same teachers be there? The same kids? Was there anything worth saving?
For years, financial and academic turmoil plagued Highland Park schools. The state of Michigan says the district ran at an operating deficit five of the last six years. Barely 800 kids still attended its three schools, and even those buildings were overgrown with weeds and tagged with graffiti.
There was a lot of cash coming in, more than $14,000 per student, but there weren't enough textbooks to go around. Standardized test scores were embarrassingly low; among 11th-graders, 10% scored proficient in reading and 5% proficient in math. Some kids went on to college, but nobody - 0% - of kids reached the ACT's college readiness benchmarks.
The district drew national attention this summer when the American Civil Liberties Union of Michigan filed a "first-of-its-kind" lawsuit against the state, education leaders and Highland Park schools for allegedly failing to teach students to read at grade level.
Now the state-appointed emergency financial manager had handed the district over to a charter school operator, the Leona Group, for a five-year contract worth more than $750,000. In a statement, the Michigan governor's office said it moved to address "a long overdue fiscal and academic crisis that was crippling the district" because it "can't and won't accept academic failure."
For some here, it was a hostile takeover. For others, a new hope.
The new superintendent, Pamela Williams, was born in Highland Park, the crowd heard. She'd just taken charge in the days before, but the few answers she had were clear: School starts at 8:15 a.m. All kids wear white shirts with black or blue pants. All three buildings - the high school and two K-8 academies - stay open. Some teachers stay, but many would be new. If the charter operator did its job, she said, the same kids would be there, and maybe even more.
"We're basically asking for your support and participation," Williams said.
She told parents they expected to have about 25 kids per class, and a core academic focus in schedules. Their beloved polar bear mascot would stay, and the buildings would be cleaned up. There would be football and basketball, but she wasn't yet sure whether there was equipment for a band. The school newspaper? The swimming pool? No. Maybe next year.
Some people looked disappointed. A couple of parents yelled. Williams said they weren't thinking about the past or who was to blame for the schools' troubles; she'd just started and wasn't even sure what the district had already been through. No officials at the meeting wanted to comment on the lawsuit.
Williams had a request: "When we call and ask you to come, we need you to be here."
The crowd applauded.
'You can make the school gooder'
Highland Park is a small city adjacent to Detroit, about three square miles that were once a center of innovation. The city was home to Henry Ford's original Model T plant. Chrysler built its headquarters here in the 1920s but left in the early 1990s. The city's diverse, middle-class population ballooned to around 50,000 from the 1920s into the 1950s, then declined to about 11,000 in 2010. Its Beaux Arts-style library opened in 1926 but is now boarded up, empty. Last year, the city infamously tore out its street lights because it couldn't pay the electricity bill.
The ACLU was already researching school issues when it bumped into the little-known state law that required assistance for students who aren't proficient in reading according to state tests they take in fourth and seventh grade. It investigated the worst-performing school districts, said Kary Moss, executive director of the ACLU of Michigan, and could've targeted the lawsuit at any of them.
But the disorganization and low scores in Highland Park struck her. It was in this little city that they met students, younger and older, who couldn't read. The lawsuit says these students were "denied the instruction necessary to attain basic literacy skills."
Plaintiffs are identified only by their initials in the lawsuit, and none were willing to talk with CNN. The ACLU included a series of short letters schoolchildren wrote to Michigan Gov. Rick Snyder, just a few sentences that sometimes complained about the lack of books and working bathrooms.
One letter from a fourth-grader reads:
"This is what I what to do when I what grow up at Bussness lady And can you give my a favorite By helping me to work my way up to keep up Jobs."
In another, a Highland Park seventh-grader spelled his name incorrectly, the ACLU said. He wrote:
"You can make the school gooder by getting people that will do the Jod that is pay for get a football tame for the Kinds mybe a baksball tamoe get a Other Jamtacher for the School get a lot of tacher."
The schools' failure doesn't land solely on parents, teachers, district or state school leaders, Moss said, but she thinks the lawsuit forces them to work together.
"There's lots of blame to go around," Moss said. "We're saying all the adults have failed (Highland Park kids)."
In the short term, she said, the ACLU wants learning conditions improved - textbooks in classrooms, cleaned up buildings, functioning bathrooms and heating systems. It wants every kid to have an individual literacy test and an appropriate intervention implemented.
"We can't lose another year or two," she said. "If kids aren't learning to read, they're not reading to learn."
The struggle with reading - and what that means for other types of learning - rings true to Johnathan Shearrod. He was a school leader and mediocre student before graduating from Highland Park schools in 2002, but looking back, he said he knows it was a poor education. Some teachers cared, he said, but they couldn't take copies of "1984" home because there weren't enough books.
When he met kids from other districts during student government trips, they talked about AP English or AP calculus, about how the Advanced Placement tests would save them so much trouble in college. He didn't know what AP meant but didn't want to look ignorant by admitting it in front of them.
Once, he said, he passed an exam on the Civil War - not because of what he'd learned in class, but because of what he'd heard on TV. He hung the test on the fridge.
"It was my grandmother and PBS that got me through," he said.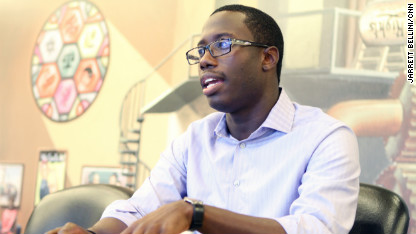 Johnathan Shearrod is a 2002 Highland Park schools graduate.
Later on, in college at Lake Superior State University - a school in Michigan's Upper Peninsula, where Shearrod knew nobody - he spent hours on the phone with his high school friends. Everybody was struggling after high school. Some wanted to drop out of college. Eventually, some did.
Shearrod enrolled in remedial math, classes that cost money but didn't count toward graduation. In the writing center, it blew his mind when a tutor explained the differences between their, there and they're.
"You realize 'I'm here because I'm stupid,' " he said. "At the end of the day, I told myself 'I can either cry' - which I did - 'and go home. Or … you can get your ass in gear.' "
So, he said, he asked for help. He stayed in to study while others went out. He learned that rewriting his notes helped him retain information. His grades crept higher, but it never felt easy.
"Drive and hard work would only get me to mediocrity," he said. "It's like starting the 100-meter dash 13 seconds late, and the race is only seven seconds."
Ten years since graduation, he's finished his bachelor's degree and a master's degree. He spent a couple of years with the Peace Corps in Niger, working as a youth educator. He lives in Detroit and works for a nonprofit. There are still times when he stumbles on a task and wonders: Why do I not know how to do this?
Since school started, there's been little movement on the ACLU lawsuit. It was scheduled for a technical hearing this month, an ACLU spokeswoman said. Moss said bringing in a charter school operator is not enough to assure change for the kids, or to ensure state laws are enforced.
"There's been this focus on governance - a focus on bringing in an emergency manager or bringing in a charter company - but there's not been a focus on what kind of academic interventions need to happen in order to really have a quality difference in the kind of education the kids are getting," she said.
Shearrod said he thinks Highland Park schools have probably gotten worse since he'd graduated, and laws should've halted its free fall. More than any other changes, the lawsuit makes him hopeful that the schools will improve.
"It takes one person brave enough to scream, on their soapbox, at the top of their lungs, into the microphone," he said. "Until you get the right person or group of people to hear it, does anyone ever hear you?"
'Just got to wait for the grades'
Since school started after Labor Day, some Highland Park teachers have returned to their classes, but more are new, said Williams, superintendent of the newly named Highland Park Renaissance Academy. Teachers are gathering baseline data so they can address kids' academic needs individually, she said. Williams estimates the charter school system will spend about $7,000 per pupil - half what was spent before - and she's confident it will get results come test time.
"Our investment is solely on the teaching and, well, a couple with the renovations, because, again, you cannot educate a child with ceiling tiles falling," she said.
Williams said she has no comment on the lawsuit.
"My energy is focused on educating our children," she said, "whether there's a lawsuit or not."
Some parents said they're already seeing changes. The charter school operators added new lights and fresh coats of paint. They sealed off parts of buildings where kids used to cause trouble. There aren't police cars on the corners anymore.
Karen Johnson graduated from Highland Park schools, and her 16-year-old son, Kyle, is enrolled there now. She works flexible shifts at a home improvement store in the suburbs, and isn't always around to drive him to school or robotics club. They live close enough for him to walk, or catch a ride.
"The lawsuit is legit," Johnson said. "They spent more time just getting the kids under control."
But one month into the school year, the buildings are starting to look better and kids don't linger in the hallways when they should be in class. She hears kids in detention are doing their schoolwork, and working on the buildings. She said she likes seeing the teachers and principals at football games. She loves that they recognize her, and know her son's name.
Kyle's attitude has changed, too.
"He was doing good in class, but he'd be like, 'I don't feel like going to school today,' " she said. "Now it's, 'We've got to leave early. I want to make sure I get there on time.' "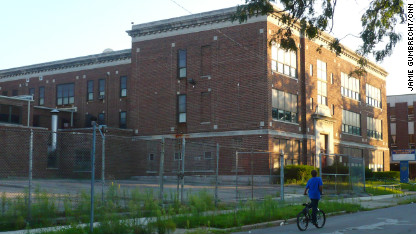 Henry Ford Academy has reopened after being boarded up this summer.
It's hasn't been entirely smooth; Johnson said she believes the Leona Group inherited a mess. There still aren't enough books, so the focus is more on short stories and articles. Kyle and his friends heard only recently that some classes they've taken might not apply to graduation requirements. Plenty of parents - especially some she saw at the meeting this summer - are never around. She said she's curious to see how many of the new teachers stick around.
"These teachers, they say something and they want you to question it, at least to see if you're paying attention," Johnson said. "They allow them to think. (Kyle) has opinions. He talks about what's going on in class, what he learned that day."
They won't really know how it's going till she sees a report card for her son. She knows he could use some help with reading and English.
It's only a month in. Like everybody else, she said she wants to see the test scores.
"I don't want to get too excited," she said. "You've just got to wait for the grades."
CNN's Poppy Harlow and Laura Dolan contributed to this report.