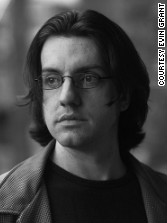 By Robert Jeffers, Special to CNN
Editor's note: Robert Jeffers teaches at Dorsey High School in Los Angeles, and is a current Teach Plus Teaching Policy Fellow.
I recently attended a screening of a PBS documentary about the future of California State Parks, featuring several of my students at Dorsey High School in Los Angeles. When the applause died down, the host convened a Q&A session that included a former student of mine, now a rising senior at Williams College. Facing an intimidating crowd, this student spoke with eloquence and insight about Dorsey High School, about parks and about the important people that set him on his trajectory to success. Then he embarrassed me. He credited me – by name, and by pointing!
It takes a lot to make a successful teacher: Hard work, a generous support network and faith from colleagues and administrators all play a role. I've been lucky to have those things, and have seen some professional success — success that's evident in my student growth data, their college acceptances and the outstanding hands-on projects they've completed.
My students have published a book of original food writing and artwork, completed award-winning films, established an on-campus recycling program recognized as one of the best in Los Angeles County and planted more than 60 trees around our inner-city campus. I'm proud of what we've done together.
But I would never call myself "irreplaceable." That's a word that has been tossed around a lot since TNTP, a teacher quality nonprofit, used it to describe top teachers in a new report, "The Irreplaceables: Understanding the Real Retention Crisis in America's Urban Schools."
FULL POST