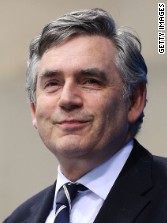 By Gordon Brown, Special to CNN
Editor's note: Gordon Brown served as Britain's Prime Minister between 2007 and 2010 after a decade as the country's finance minister, or Chancellor of the Exchequer. In July this year he was appointed as a United Nations Special Envoy on Global Education by Secretary General Ban Ki-moon.
(CNN) - News that a 14-year-old Pakistani girl was gunned down by the Taliban simply because she wanted to go to school has sparked a wave of protests and condemnation across the world.
As she fights for her life in hospital, Malala Yousafzai is being adopted as every child's sister and every parent's daughter.
Wearing "I am Malala" t-shirts, young people in Pakistan are not only challenging the Taliban's brutality and dogma, they're boldly affirming the right of every child to education.
The protests reveal a generation no longer willing to tolerate the gap between the promise of opportunity for all and the reality for millions of boys and girls shut out from even the most basic of primary schooling. Indeed, they are doing more to assert their right to education than the leaders who promised to deliver it.
If there is one idea that has been pre-eminent in the modern world, it is that every child should have the opportunity through schooling to rise as far as their talents can take them. For decades we have assumed the inevitability of the forward march of education, the inexorable year-on-year, continent-by-continent progress towards universal education.
But if there is one reality that exposes our failure to deliver, it is that there are 61 million young children like Malala who will not go to school today or any other day. Written off at five and six years old, they will never be able to bridge the gap between what they are and what they have in themselves to become.