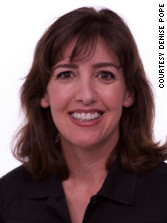 By Denise Pope, Special to CNN
Editor's note: Denise Pope, Ph.D., is a senior lecturer at the Stanford University School of Education. She is co-founder of Challenge Success, a research and intervention project that provides schools and families the tools they need to raise healthy, motivated students. Her book, "Doing School: How We Are Creating a Generation of Stressed Out, Materialistic, and Miseducated Students" (Yale University Press, 2001) was awarded Notable Book in Education by the American School Board Journal, 2001.
Students and faculty at Harvard note that the campus is "in shock" over the recent accusation that 125 students cheated on a final exam last spring. Parents at Stuyvesant High School are stunned to learn that 66 students were accused of using cell phones to cheat during an exam. But those of us who research student behaviors aren't surprised by the latest cheating scandals.  We hear stories like these all the time.
In fact, 97% of the high school students in our Challenge Success survey admitted to cheating at least once during the past year, and 75% admitted to cheating four or more times.
Many students point to examples of cheaters on Wall Street, in government, sports and show business, and tell us that the standards for honesty are different these days:  "Everybody cheats."
The problem is so prevalent and widespread that many parents and educators tend to throw up their hands in defeat.  But we know something can be done about the rampant cheating in schools. We reviewed the research on cheating from the past 15 years and summarize our findings here to show you what really goes on inside the classroom and to help you find ways to increase honesty and integrity in your homes and schools:
FULL POST