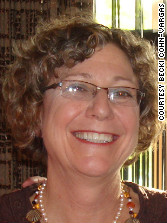 By Becki Cohn-Vargas, Special to CNN
Editor's Note:  Becki Cohn-Vargas, Ed.D., has spent more than 35 years as a teacher, principal, curriculum director and superintendent. Currently, she is the director of Not In Our School, part of the national nonprofit Not In Our Town.  She is building a network of educators taking action to stop bullying and create safe, accepting and inclusive schools.
All of us have experienced cruel behavior, either as a participant, victim or witness. The Not In Our School "Break Bullying"public service announcement, donated by the MAKE ad agency, appears to bring back those bad memories. The announcement depicts adults in a professional environment re-enacting the personal middle school bullying experience of the director, Mike Nelson. His point: If we would not stand for this at work, why do we stand for it happening to kids in schools? The purpose of the PSA is to make us want to do something - to intervene, unlike the co-workers who watch their colleague pushed to the floor.
Not In Our School focuses on solutions.  It provides positive films and resources to networks of schools, so when MAKE first presented the video, we weren't sure we could use it. But then we saw what happened when people viewed it. They started talking about how it looked when adults felt the kind of pain children experience every day. We launched the PSA for Bullying Prevention Month as a wake-up call. Our goal was to reach as many people as possible (55,000 to date) and spark conversation about taking bullying seriously. Then, we would talk about ways to successfully combat bullying in our schools.
When the CNN Schools of Thought blog posted "Break Bullying," it received more than 500 comments from viewers. Some were heartening; many were not. Well-meaning comments posed possible solutions to bullying: Some were practical and others were outright scary. One man proudly admitted to paying $50 to a man he found on the street to beat up the bully, who ended up "in a hospital for a month." One person even stated that bullying is a necessary rite of passage based on animal instinct, echoing others who felt that no matter what we do, bullying will never change.
FULL POST