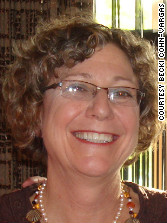 By Becki Cohn-Vargas, Special to CNN
Editor's Note:  Becki Cohn-Vargas, Ed.D., has spent more than 35 years as a teacher, principal, curriculum director and superintendent. Currently, she is the director of Not In Our School, part of the national nonprofit Not In Our Town.  She is building a network of educators taking action to stop bullying and create safe, accepting and inclusive schools.
All of us have experienced cruel behavior, either as a participant, victim or witness. The Not In Our School "Break Bullying"public service announcement, donated by the MAKE ad agency, appears to bring back those bad memories. The announcement depicts adults in a professional environment re-enacting the personal middle school bullying experience of the director, Mike Nelson. His point: If we would not stand for this at work, why do we stand for it happening to kids in schools? The purpose of the PSA is to make us want to do something - to intervene, unlike the co-workers who watch their colleague pushed to the floor.
Not In Our School focuses on solutions.  It provides positive films and resources to networks of schools, so when MAKE first presented the video, we weren't sure we could use it. But then we saw what happened when people viewed it. They started talking about how it looked when adults felt the kind of pain children experience every day. We launched the PSA for Bullying Prevention Month as a wake-up call. Our goal was to reach as many people as possible (55,000 to date) and spark conversation about taking bullying seriously. Then, we would talk about ways to successfully combat bullying in our schools.
When the CNN Schools of Thought blog posted "Break Bullying," it received more than 500 comments from viewers. Some were heartening; many were not. Well-meaning comments posed possible solutions to bullying: Some were practical and others were outright scary. One man proudly admitted to paying $50 to a man he found on the street to beat up the bully, who ended up "in a hospital for a month." One person even stated that bullying is a necessary rite of passage based on animal instinct, echoing others who felt that no matter what we do, bullying will never change.

Many told heartbreaking stories of their children being relentlessly bullied. Others talked of lifelong pain caused from being bullied as kids. More than a few comments described horrendous bullying experiences at work. Some reported being bullied by their bosses, forcing them to choose between taking the abuse or defending themselves at the risk of losing their jobs.
At Not In Our School we believe that there are effective solutions and they don't include violence.  With comprehensive efforts to change the school culture, former targets of bullying become strong and self-reliant. Perpetrators learn new ways of interacting, and bystanders, who make up 85% of most bullying situations, become upstanders for themselves and others. Not only do these solutions help stop bullying, but they also create welcoming communities for all.
This isn't just a dream. It is happening across the country, as shown by these inspiring examples of people from all sectors and backgrounds who are building safe school communities:
Lancaster, California
School counselor Lauri Massari launched a student-led anti-bullying campaign that involved the entire community and 50,000 students participated. Older students mentored younger ones with anti-bullying techniques. Now in its third year, students report feeling safer at school.
Marshalltown, Iowa
Times Republican newspaper publisher Mike Schlesinger launched a citywide preventive anti-bullying initiative after suicides in a nearby town were attributed to bullying. He got everyone involved, from the football team to the community college  to the local library, all making an ongoing commitment.
Paducah, Kentucky
Susan Guess, a parent whose daughter was bullied, started a citywide campaign to address bullying. She brought the film "Bully"to town and raised funds for bullying prevention author Jodee Blanco to speak at every school in the district. She is now approaching city and state leaders to launch a "Kentucky: Not in Our State Campaign."
Palo Alto, California
After a 2005 Not In our Town film showing, students proposed an annual anti-bullying effort that has continued with new activities each year: High school teachers lead classroom discussions about how to speak up to stop peers from saying "that's so gay."  Middle school students respond to discrimination.  High school students address negative stereotypes through a symbolic activity during lunch.
This small sampling reflects activities shared through more than 50 short Not In Our School videos that inspire other schools. Not In Our School is part of Not In Our Town, a national nonprofit organization whose 1995 PBS film featured a community that joined to say "not in our town" to hate crimes committed in Montana. The film sparked a national movement that rallied people to stand up to bullying, hate and intolerance, a movement that continues to this day.
Bullying is a serious problem, and the solutions belong to us all. We're not in this alone, we need to stand together. We can join with thousands in taking bullying and intolerance seriously and working to create safer, more inclusive and accepting environments for our children, our workplaces and, by extension, society as a whole.
The opinions expressed in this commentary are solely those of Becki Cohn-Vargas.