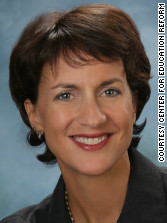 By Jeanne Allen, Special to CNN
Editor's note:  Jeanne Allen is the founder and president of The Center for Education Reform (CER). The center was founded in 1993 to bridge the gap between policy and practice and restore excellence to education.
Schools of Thought has published and will continue to publish other views on this topic in the days up to the election.
"We can fix our schools because we don't get the biggest share of our campaign donations from the teachers' unions."
This short, simple statement from Gov. Mitt Romney in an October 24 speech in Nevada sums up the real distinction between education reformers and protectors of the status quo, and reveals why when it comes to education policy, Romney would be a superior president - because he promised to put children, parents and teachers first, and to "put the teachers' unions behind."
The day has passed when that could be considered a partisan statement. We've heard stronger words, for example, from many Democrats, from former NYC Chancellor Joel Klein (also of the Clinton administration) to former New York City Councilwoman Eva Moskowitz (now of Success Charter Network) who pressed the unions to explain why their contracts were protecting mediocrity instead of boosting high-performing teachers.  Pennsylvania Sen. Anthony Hardy Williams helped then-Republican Gov. Tom Ridge push through a charter school law in 1997.  And in 2010, Williams ran for governor on a platform of school choice. His core message was that parents and teachers should come ahead of unions. Sound familiar?
Education reform is not, by any stretch, a "Republican" issue.  The national Democratic Party has always viewed the education establishment as its bedrock constituency – from unions to school districts.  But it's different at the state and local level, where Democrats often reject the status quo, joining in a diverse coalition of voices pressing for significant reforms at every level.
While individually most of those Democrats will vote with their party, they are nevertheless closer to Romney's view of education than they are to Barack Obama's. Many have confided to me that their hope is to change the Democratic Party's culture from one that favors teachers unions to one that favors parents.
But we cannot wait another generation or more for that to happen.  Our children only get one chance at a decent education, and the clock is ticking. As former Secretary of State Condoleezza Rice put it, "Educational failure puts the United States' future economic prosperity, global position, and physical safety at risk."
FULL POST