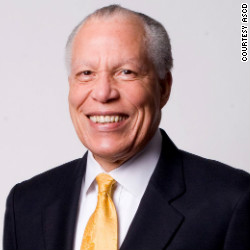 By Gene Carter, Special to CNN
Editor's note: Gene Carter is CEO and executive director of ASCD, an international education leadership association with 150,000 members—superintendents, principals, teachers, professors, and advocates — in more than 145 countries. A veteran educator with experience as a teacher, administrator, superintendent and university professor, Carter took over the helm of ASCD (formerly the Association for Supervision and Curriculum Development) in 1992.
As the 2012 presidential campaign builds to what appears to be an incredibly close finish, I am struck by the absence of education in the candidates' ongoing dialogue. Job creation, health care, tax policy, and even Big Bird have been campaign issues, but to date, education policy has only lurked in the background.
Why is this? The results of the 2012 PDK/Gallup Poll of the Public's Attitudes Toward the Public Schools are instructive.   According to the survey, 77% of respondents assigned the nation's schools either a C grade or lower; yet the poll says we have confidence in public school teachers.  Respondents believe that closing the achievement gap and improving urban schools is important, but they would rather balance the federal budget than improve education.
The U.S. voters' paradoxical views on education make it a difficult issue for presidential candidates to address, and that may be a good thing. Education's lack of prominence on the campaign trail might preserve it from becoming a wedge issue that further divides us.
FULL POST