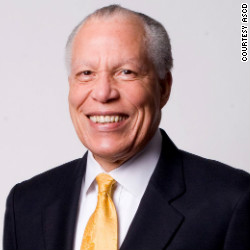 By Gene Carter, Special to CNN
Editor's note: Gene Carter is CEO and executive director of ASCD, an international education leadership association with 150,000 members—superintendents, principals, teachers, professors, and advocates — in more than 145 countries. A veteran educator with experience as a teacher, administrator, superintendent and university professor, Carter took over the helm of ASCD (formerly the Association for Supervision and Curriculum Development) in 1992.
As the 2012 presidential campaign builds to what appears to be an incredibly close finish, I am struck by the absence of education in the candidates' ongoing dialogue. Job creation, health care, tax policy, and even Big Bird have been campaign issues, but to date, education policy has only lurked in the background.
Why is this? The results of the 2012 PDK/Gallup Poll of the Public's Attitudes Toward the Public Schools are instructive.   According to the survey, 77% of respondents assigned the nation's schools either a C grade or lower; yet the poll says we have confidence in public school teachers.  Respondents believe that closing the achievement gap and improving urban schools is important, but they would rather balance the federal budget than improve education.
The U.S. voters' paradoxical views on education make it a difficult issue for presidential candidates to address, and that may be a good thing. Education's lack of prominence on the campaign trail might preserve it from becoming a wedge issue that further divides us.

At ASCD, we believe education is an issue that unites us. We all want good schools for each child. We are all interested in the design and implementation of effective school improvement strategies that help us close the achievement gap. We all support ongoing professional development so educators can continue to meet the needs of today's students. We believe in working together to preserve U.S. competitiveness in the world through an education system that prepares students for college, career, and citizenship.
The obstacles to reach these goals are formidable. We know now that beyond the purely academic challenges, our education system is faced with a host of issues shaped by human psychology, technology, economics, and public administration, among other factors. Likewise, we know that parts of our complex education system work well, while other areas need improvement.  We must move thoughtfully and carefully as we seek progress.
Education is a complicated public policy issue, ill-suited for reductive stump speeches that serve only to score political points. The multifaceted U.S. education system requires a high level of collaboration and accountability from policymakers, families, educators, and students to be successful.  In addition, it requires agreement among stakeholders on the verydefinition of studentsuccess, which we here at ASCD believe means that students go to school and graduate feeling safe, healthy, engaged, supported, and challenged. Progress in this arena requires unity of purpose and understanding from the U.S. public, not rancor and division from its leaders.
Regardless of education's exposure in this year's presidential campaign, I am confident it is an issue that will attract the president's immediate attention on day one of the next term. The issues are multidimensional and the stakes are high. Either candidate will have his hands full when he is sworn in next January. So, as this campaign concludes in the coming days, let's hope the next four years unite all policymakers on both sides of the aisle in districts, states, and the nation's capital to work together to improve our nation's schools.
The opinions expressed in this commentary are solely those of Gene Carter.