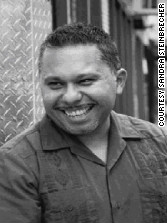 By Ray Salazar, Special to CNN
Editor's Note: Ray Salazar is a National Board Certified English teacher in the Chicago Public Schools. He writes about education and Latino issues on the White Rhino Blog. Follow him on Twitter @whiterhinoray.
(CNN) - Finally, Republicans and Democrats know that they need more than mariachis playing behind them to win the Latino vote. By now, almost everyone heard about the Latino influence this presidential election.
The signs were everywhere. Maybe this is the 2012 cosmic event predicted by the Mayan calendar. Now, President Obama must recognize Latino views as he moves forward with economic recovery and immigration policy and farther with education reform.
None of the parties should have been surprised by the Latino vote.  On October 7, CNN's "Latino in America: Courting the Latino Vote" reported that more than 60,000 Latinos turn 18 each month across the country, and we care about more than immigration. When Latinos were given a choice between what's more important, immigration or the economy, 74% chose the economy.
Obama's modified DREAM Act did, though, help secure 71% of the Latino vote. Romney's unclear view of immigration reform contributed to only 27% of his Latino vote. 
More notably, the Latino vote for Obama exceeded the national Latino average in some battleground states: 87% in Colorado, 80% in Nevada and 82% in Ohio.
These votes indicate that the conversations need to change. For too long, education reform remained a black and white issue, racially and politically. Our educational system as is does not work, especially not for Latinos. According to the National Center for Education Statistics, the Latino dropout rate is almost double that of African-Americans and about three times higher than that of whites.

Because of our newfound political power, Latinos must now demand education reform that creates long-term improvement in our communities. We have to stop being like that smart, quiet Latino student who sits in class, barely expressing his opinion if, by chance, he's called on.
Some may say Latino communities are diverse and needs are too distinct for national policies. Latino communities do differ. The realities of Southwest, Midwest, Northeast and all U.S. Latinos are defined by diverse cultural, historical, social and economic challenges.
Despite our differences, however, an education-reform movement that creates more Latino achievement is quite simple to explain.
1. Students first: Education-policy decisions at the local and national level need to be beneficial for students and manageable for teachers.
One education policy change proposed during Obama's January State of the Union Address pushed state leaders to change the legal dropout age to 18. While the high Latino dropout rate may decrease, we cannot simply keep students in school so they are in school. My first teaching job was at an alternative high school for former dropouts. Five teachers ran this school in an old apartment building for about 100 students. We needed help from a smaller counseling unit, a young moms' guidance group, collaboration with students' parole officers. Many promising students dropped out again because of economic and social pressures outside their, and our, control.
Forcing students to stay in high school until they're 18 sounds like putting students first, but it's not. Instead, this creates insurmountable situations if schools lack resources to solidly partner with counseling, parenting and job-training organizations.
The traditional high-school experience of six to eight classes a day for four years must change. Students need credit-earning internships, dual-credit college classes, counseling sessions. Good teachers want to create innovative learning experiences inside and outside of the classroom.  We need increased funding and flexibility.
For too long, Latino students' needs remained last. Unfortunately, many of us can explain how and why - in fluent English.
2. High expectations: If schools with high percentages of low-income youth receive more funding and flexibility, we need to ensure that adults in the building believe Latino students can succeed at higher levels.
Too often, we hear teachers blamed for Latino students' lack of achievement. More often, we hear Latino parents blamed for their own students' failure. The truth is, if a student is in a building for six or seven hours a day (and many of them are), schools should be able to show a behavioral or academic change in almost every student.
According to the Consortium on Chicago School Research at the University of Chicago , "The single most consistent predictor of whether students took steps toward college enrollment was whether their teachers reported that their high school had a strong college climate, that is, they and their colleagues pushed students to go to college, worked to ensure that students would be prepared, and were involved in supporting students in completing their college applications."
Latinos need to demand that teachers and school leaders stop using poverty as a scapegoat.  And if bad teachers and ineffective leaders remain in the building, they need to be removed more easily.
3. More options: Latino students - all students - should be able to attend any of the district's schools.
Usually, a student's school is determined by where he lives.  What if students were free to attend any public school in their city?  In Chicago, there's some policy talk that eighth-graders will no longer have to automatically attend their neighborhood high schools (usually a struggling school closest to their home).  Supposedly, eighth-graders will be able to apply to any neighborhood high school in the city.  We'll see.
If students have citywide options, we would decrease economic and racial segregation.  District leaders would be forced to ensure that all schools receive equal resources.  Low-income students would have access to newer school buildings with more computer labs and classrooms with more than one working outlet.  Affluent diverse suburbs, like Evanston, where NorthwesternUniversity is located, combine low-income and high-income students in one building. All students receive a quality education. Of course, this suburban district's funding is different from the city's. Citywide options would force state leaders to redesign school funding for the benefit of all students.
Latinos cannot be afraid to say we need education reform. We cannot become silent again, waiting for someone to ask us what we think. We cannot fear the fact that we have, for once, political power capable of changing our nation.
The opinions expressed in this commentary are solely those of Ray Salazar.