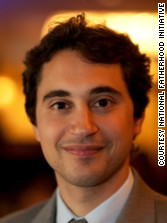 By Vincent DiCaro, Special to CNN
Editor's note: Vincent DiCaro is vice president of development and communication for the National Fatherhood Initiative, where he has worked for more than 10 years to promote involved, responsible and committed fatherhood. He lives in Maryland with his wife and toddler-age son.
(CNN) - I'll always remember the first time my son spontaneously said, "Thank you," to me. It was only a few months ago. He has Type 1 diabetes and was having a low blood sugar episode. I brought him his favorite juice to get his blood sugar up, and when I handed him the juice he said, "Thank you, daddy" in his adorable toddler voice.
I melted of course, but I was also grateful that my son was picking up one of the most important character traits he will need as he grows up: thankfulness. But as the father of a 2½-year-old, I can say with confidence that thankfulness does not come naturally to children, mine included.
While my son is starting to say "thank you" on his own, it was only after making him say it over and over again; the first few hundred times he said those magical words, he didn't even know what they meant. But somehow, he knew what "no" and "mine" meant right away - funny how that works.
So raising thankful children is an uphill battle against the generally selfish tendencies of children. But not all hope is lost. Parenting, like having a good jump shot, is a skill that can be learned through the right techniques and practice.
To get you started, here are five things you can start to do right away that will build a character of thankfulness in your children.
FULL POST