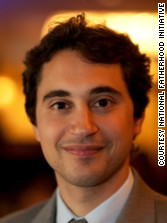 By Vincent DiCaro, Special to CNN
Editor's note: Vincent DiCaro is vice president of development and communication for the National Fatherhood Initiative, where he has worked for more than 10 years to promote involved, responsible and committed fatherhood. He lives in Maryland with his wife and toddler-age son.
(CNN) - I'll always remember the first time my son spontaneously said, "Thank you," to me. It was only a few months ago. He has Type 1 diabetes and was having a low blood sugar episode. I brought him his favorite juice to get his blood sugar up, and when I handed him the juice he said, "Thank you, daddy" in his adorable toddler voice.
I melted of course, but I was also grateful that my son was picking up one of the most important character traits he will need as he grows up: thankfulness. But as the father of a 2½-year-old, I can say with confidence that thankfulness does not come naturally to children, mine included.
While my son is starting to say "thank you" on his own, it was only after making him say it over and over again; the first few hundred times he said those magical words, he didn't even know what they meant. But somehow, he knew what "no" and "mine" meant right away - funny how that works.
So raising thankful children is an uphill battle against the generally selfish tendencies of children. But not all hope is lost. Parenting, like having a good jump shot, is a skill that can be learned through the right techniques and practice.
To get you started, here are five things you can start to do right away that will build a character of thankfulness in your children.

1. Model thankfulness. It is difficult for children to be what they don't see. Therefore it is critical that you live out thankfulness in your own life.
Say "please," "thanks" and "you're welcome" every day, to your spouse, and in front of your children. There is a saying, "Good manners are not only taught, they are caught." In other words, practice what you preach. Do not just teach your child to say "thank you" and "please" every day and in various situations, but use those words yourself. Thank your children for doing their chores well, or for picking out their clothes in the morning.
But do not fall into the trap of limiting your thanks to actions your kids take; also thank them for being kind, patient, caring or whatever positive character trait you want to nurture in them. As a dad, I make sure my son hears me thanking everyone from waiters at restaurants to his teachers at day care on a regular basis.
2. Teach the "why" behind thankfulness. It is important to help your child understand why it is important to say "thank you." How much you explain will depend on the age of your child, but the point is not simply to dictate thankfulness ("You will say thank you because I said so!"), but to teach your child why being thankful is important.
For example, ask your child how he feels when someone says "thank you" to him. Explain that people like to feel valued and appreciated, so we should help them feel that way as often as possible.
3. Have a daily "thankful" talk. During dinner or in the car driving to an activity, ask each member of the family what they were most thankful for that day. Make asking a daily habit. Taking a moment to reflect on the day will help everyone find something positive, even if it was a tough day. Plus, it will give you extra insight into what's going on in your child's life.
As the parent, be the one always to steer the conversation to the positive side and give encouragement. Remember the objective of this conversation - you are teaching your child to be thankful.
While my own son is still too young to be able to articulate this, I am getting him in the habit of talking about his day in his own simple way ("I played with toys!") so that as he gets older, the thankful talk will come more naturally to him.
4. Advertise your thankfulness. Hang a dry-erase board in a prominent place in your home and call it "the thankful board." Some companies have a "kudos" board for their employees that provide a great way to create an environment of encouragement and thankfulness.
On your home's "thankful board," have your children write messages to say thanks to each other for something big or small. You can also write notes of encouragement to each other, such as "I hope you get an A on your test today." You can also use the board to broadcast things that your whole family is thankful for, such as "our warm beds that we sleep in every night."
My toddler, of course, can't write on a dry-erase board yet, so for now, my wife and I are sticking to modeling thankfulness to him in more conventional ways so that he is ready for when we have our own "thankful board" in our home.
5. Use Thanksgiving as an opportunity to engage in a public display of thankfulness. Thanksgiving can provide you with a perfect opportunity to put your thankfulness to the test. A powerful way to show how thankful you are for what you have is to give some of it to those who have less.
For example, give some of your time at a soup kitchen and serve Thanksgiving dinner to the needy. Or donate turkeys and canned food to a Thanksgiving food drive and participate in distributing the food. Make sure your children see you doing these things. Making your generosity public is a great way to show your children that thankfulness is something to be celebrated, and they will certainly "catch" the satisfaction that comes with helping others.
If you make habits out of these guidelines, you will start to see positive results in your children. And for that, you will most certainly be thankful.
The opinions expressed in this commentary are solely those of Vincent DiCaro.