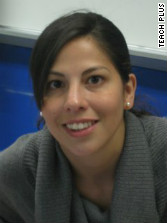 By Marisol Castillo, Special to CNN
Editor's note: Marisol Castillo teaches at E.L. Haynes Public Charter School in Washington. Castillo taught in California's Bay Area, and then at a small high school in the South Bronx before relocating to Washington, D.C. In 2009, she received her National Board Certification. Castillo is a Teach Plus Teaching Policy Fellow.
(CNN) - I'm a lucky teacher.
In the nine years I've been in the classroom — at three different urban schools — I've consistently experienced evaluations that have allowed me to grow as an educator. I'm a better teacher because of that, and my students have benefited.
All teachers should be so lucky as to experience high-quality evaluation. But unfortunately, they're not. According to a 2012 national survey of teachers conducted by the nonprofit Teach Plus, Great Expectations: Teachers' Views on Elevating the Teaching Profession, nearly half of all teachers say they either had not received an evaluation in the past year or did not find their evaluation feedback useful.
Recently I was able to address these survey results in front of policymakers on Capitol Hill. I told them that, according to the Teach Plus report, teachers who have been in the classroom for less than 10 years support a range of reforms.
The report shows that a majority of teachers across experience levels think clear standards of effectiveness are critical for teaching to be recognized as a true profession. Many teachers, including nearly three-quarters of the New Majority, the 52% of teachers with less than 10 years experience, want student growth data to be a component of their evaluations.

It's not that educators don't want to be held accountable for our work. In fact, it's quite the opposite. I cannot think of a single colleague, past or present, who disagreed with the idea that teachers should be evaluated.
In my experience, the angst around evaluations does not exist primarily because an evaluation system is in place, but because of concerns around how that system is implemented.
I've heard anxiety over being evaluated by administrators who know little or nothing about the content areas they are evaluating. There are concerns around consistency in terms of how standards of accountability are assessed in each classroom.
Many educators are jaded by experiences of failed evaluation systems, such as being praised for writing an agenda on the board rather than on the delivery and ultimate success of the lesson. Some teachers are worried that those marked as ineffective will not receive adequate support to improve. Because of these factors, it's easy to see why educators would feel apprehensive about evaluation.
My experience with evaluation has been positive because the schools in which I've worked have done a good job supporting my growth.
Evaluations that work for teachers aren't just about creating clear rubrics, although that's important. It's also about creating structures in schools that support ongoing growth so that a formal evaluation feels less like a random, high-pressure event and more like one piece of a system of consistent support and professional development.
These aren't strategies that require huge amounts of time or money. In two of my schools, collaboration time is built into the schedule so teachers who teach the same subject can easily meet with one another to plan and reflect on lessons. This mandated collaboration has made me more thoughtful about my practice.
Because my lessons are planned with other teachers, we cover more ground and are more likely to anticipate and address issues students may face in a particular lesson or unit. As such, when I'm observed, I'm already confident that I've thought thoroughly about what is going on in my classroom, and I've experienced the added benefit of getting feedback from my peers.
It's also important that trained instructional leaders run teacher evaluation systems.
My principal comes into my classroom multiple times a month. While those visits are not always formal and are rarely long, they serve as a reminder that it's important that school leadership have a strong idea of what's happening in my classroom.
I usually receive immediate feedback after these informal observations, instead of having to wait for a formal evaluation. These evaluations also enhance my administrator's credibility when she talks to me about my progress as an educator.
One day last year, my principal popped into my classroom and noticed that I wasn't getting as much student engagement as possible during an activity. I had asked students to raise their hands in response to complex multiple-choice questions. My principal suggested having the students use their school-issued netbooks to access a website that would allow them to vote anonymously on their selected answer. I implemented that technique the next day, and student engagement increased immediately.
My students and I benefit from my principal's dedication to learning about new instructional strategies, as well as her commitment to being in multiple classrooms daily to pass on key knowledge. Because of her efforts, I see my principal more as a collaborator than an evaluator, and this has resulted in a more productive working relationship.
These high-quality evaluations have led to success for both my students and me. Last year, I helped more than 50% of my English language learners progress out of that system into mainstream instruction. I've been teaching long enough that every fall I get multiple emails from former students newly enrolled in college, often the first in their families to have that experience.
It is disappointing that I've had a drastically different experience with evaluation than many fellow educators.
The strategies that have made my evaluation experiences successful are not groundbreaking ideas. I've bought into the evaluation process because there are structures in place that allow me to feel supported and respected.
The importance of creating overall collaborative cultures at schools cannot be underestimated. It can let everyone feel ownership over a strong, effective learning environment. It will encourage more teachers to feel that evaluation is a supportive tool rather than a punitive one. With that, my experience with evaluation could become the rule, not the exception.
The opinions expressed in this commentary are solely those of Marisol Castillo.