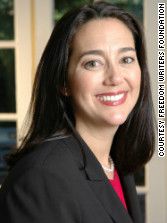 By Erin Gruwell, Special to CNN
Editor's note: Erin Gruwell is the inspiration for the film "Freedom Writers," starring Hilary Swank. She helped a group of disengaged students in Long Beach, California, turn their lives around by reading stories of people whose struggles they could relate to. She encouraged them to pick up a pen and put their stories on the record. She is the founder of the Freedom Writers Foundation and author of a new nonfiction reading and writing program from Scholastic called On the Record.
(CNN) - When I reminisce about my first day as a teacher, I can remember walking into my classroom in polka dots and pearls, with the hope that I could change the world – or at least the worlds of the students assigned to my ninth grade English class. Then I discovered that my students hated reading and hated writing, and complete and utter panic set in. Quickly, my idealism turned to doubt—and I doubted my decision to be a teacher and my ability to reach my students.
As a first year teacher, fresh out of college, I was confronted with a challenge that so many new teachers face every year—the reality that my students had checked out of school a long time ago. Many of them had never read a book from cover-to-cover. Nor did they intend to. And they didn't see how school had any relevance in their lives.
In the minds of most of my students, school was not relevant to their daily struggles: poverty, the threat of gang violence, drugs, juvenile hall, or worse yet, funerals. My students looked at me and thought there was no way I could understand what it was like to be hungry, to have a father in prison or a mother who had to work three jobs just to put food on the table.
I remember one of my students, Maria, walking in on the first day wearing an ankle monitor around her leg, and a parole officer by her side. She was throwing up her gang signs in the back of the class, carving her initials on her desk and making it very clear that she was miserable. Her goal was to make me as miserable as she was. I was determined to get her to record her story, in the hopes that maybe she could rewrite her own ending.

Maria's story was tragic. At the age of 5, she witnessed her first murder on her way to kindergarten. I wondered how a 5-year-old could learn ABCs and 123s, when she didn't even know how to process PTSD. So early on, Maria gave up on education in a classroom, and instead she learned lessons from the streets. With a dad in jail, and a mother who worked multiple jobs, her life was about survival. And if someone knocked her down, she'd come back swinging. As she got older, Maria couldn't care less about No. 2 pencils and standardized tests. And by the time she walked into my classroom at the age of 14, she'd already been to boot camp and juvenile hall.
As tragic as Maria's story was, I realized that I had 149 other disengaged students who also needed to put their individual stories on the record. I hoped that writing could help my students rewrite their own ending and in the process, change the direction of their lives.
So that's what I did. With the power of the pen, my students put their stories on the record. For kids like Maria, who are struggling with their identity, they need to be able to look up to somebody and say, "I look like them" and "I too can overcome any obstacle." And there's no better way to do that than with books. So I gave my students stories about people in whom they could see a little bit of themselves – stories from Anne Frank or Zlata Filipovic. I saw how stories of teenagers and adults overcoming obstacles could inspire even a student like Maria. I saw how the power of the pen can help disengaged students find a voice, find relevance in learning and school, and give them a feeling that the story of their lives is not yet written in ink.
For the thousands of new teachers who I know come to school with a mix of excitement and fear, I urge you to remember that every student has a story worth telling. "Sometimes I feel like I live in an undeclared war," one of my students once told me. I wanted to show my students that the best way to fight that war was through words and not weapons.
This is why I started the Freedom Writers Foundation and why I'm working with organizations like Scholastic to support teachers. The Freedom Writers and I are traveling the country talking to teachers and telling our story, we're running teacher training institutes and professional development seminars for educators, and we're creating programs like On the Record, with Scholastic, that are filled with stories of perseverance and people who beat the odds: Barack Obama, Amy Tan, LeBron James, Aron Ralston, and others.
The Freedom Writers taught me that we need to honor the diversity and the untold stories in our classrooms, rather than cast aside at-risk students as unteachable. By helping students find their voice and put their stories on the record, we can equip them with language and literacy skills they need to succeed.
The opinions expressed in this commentary are solely those of Erin Gruwell.