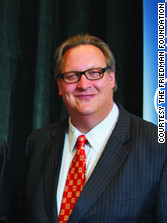 By Robert Enlow, Special to CNN
Editor's note:  Robert Enlow is president and CEO of the Friedman Foundation for Educational Choice, the legacy foundation of Nobel laureate and school choice founder Milton Friedman and his wife, Rose.
If you follow the logic of America's teachers unions – and particularly those in Louisiana – it's better for all children to get a lousy education than for some to get the chance to escape to a better school using a voucher.
Such were the absurd arguments recently before District Judge Timothy Kelley, who erred in ruling that Louisiana's school voucher program violated the state's Constitution by using education dollars from the state's funding formula. The program, which started this fall, gives 4,900 pupils a seat in private or parochial schools.
But children shouldn't be victims of funding formulas or arguments about how many get a place on a lifeboat when the educational Titanic is sinking. About 72% of the state's public schools are rated C, D or F, according to the Louisiana Department of Education. For those who earn a diploma and enter college, 34% of college freshmen needed remediation in 2010.
Unions may claim that they embrace education reform, but their actions show that they are more concerned about perpetual funding of the education bureaucracy that results in too many children dropping out, becoming unemployed or going on government assistance programs. When unions or school boards feel threatened by school choice, they throw children under the bus. And in Louisiana last week, 4,900 children certainly were the victims of adults putting their interests before children.
FULL POST