This is the second in a two-part series about recovery from Superstorm Sandy. Today's story follows one school, Scholars' Academy, as it struggles to reopen. Yesterday's story told the story of one student, Scholars' eighth-grader Ryan Panetta, as his family rebuilds after the storm.

By Rose Arce, CNN
New York (CNN) - Brian O'Connell remembers the plays in the big auditorium at Scholars' Academy, the workout room outfitted by parents, the rows of computers, the winning teams, the honor society.
"We had pretty much 100% of the kids going to college last year," said O'Connell, the tall, fresh-faced principal of the school. "We had teams playing competitively around the city, an orchestra, plays on a top-notch stage."
The night Superstorm Sandy pelted New York, it took 15 minutes to lose it all.
"I look at the videos and I can't believe how quickly the water rose," O'Connell said early this month as he watched surveillance footage from the storm.
The water flowed from the Atlantic Ocean and Jamaica Bay, tainted by overflow from a nearby sewage treatment plant. The video shows water rising as if released from a spigot, sweeping through the front of the school, climbing up the front stairs and pouring into the basement boiler.
"The next time I got in there, my grand piano was floating," O'Connell said.
Scholars' Academy was one of 1,750 schools badly damaged by the storm, one of many still trying to clean up and rebuild weeks later. The nation's largest school system was so wounded by the storm that it shut down for days. Even when schools reopened, 73,000 kids were displaced from their regular buildings. The district had lost 300 buses to water. Repairs moved quickly, but by early December, 5,400 children were still being bused to temporary schools.
Scholars' Academy is one of 56 buildings that are so severely damaged they won't reopen until next year. More than half the school's students saw damage to their homes. All of them are now riding long hours to study in borrowed school spaces.
The academy is in Far Rockaway, a beach town on the far end of Queens. The school is blocks from the Atlantic Ocean, and from its roof, you can see the Manhattan skyline. Dee Dee Ramone, who combed the beaches here as a kid, famously sang about it:
The sun is out, I want some
It's not hard, not far to reach
We can hitch a ride to Rockaway Beach
The song was a big hit in the late 1970s; O'Connell, 45, still hums it sometimes. It was the story of his generation, the kids who grew up here, spending weekends on the sandy shore. Some, like O'Connell, stayed and built up the summertime oasis into an enclave where working-class families could own a bungalow, raise their kids and send them to good schools.
At least, that was O'Connell's plan.
"When we started, you should have seen this place," he said of the building now home to Scholars' Academy.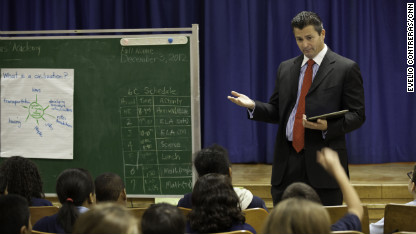 Brian O'Connell visits his students at their temporary school.
The school that used to be in his building had been shut down. The academics were terrible, and the hallways violent. O'Connell took over and invested seven years in building Scholars' Academy into a highly rated public junior and senior high school.
"Sandy came in and did a number on us," O'Connell said. "So now we have to simply take a step back and say, 'Well, we built from nothing before, and in some ways, less than nothing.'"
See how one Scholars' Academy family is coping
O'Connell's own home was damaged by the storm. His upper floors still have no power. His mother's basement apartment is beyond repair. Humidity is eating the walls. After the storm, O'Connell had no place to live, and no school left to run.
He moved into a hotel, paid for by FEMA, and was back at work the next day with a plan to put his school back together. Crews pushed forward, uncertain even now about when the school will reopen. There are bad moments, too, like when the school was looted after the storm, losing dozens of new iPads and computers.
O'Connell said he kept his composure until he saw the podium the parents gave him his first year. It was toppled and covered with sewage.
"That really got to me," he said.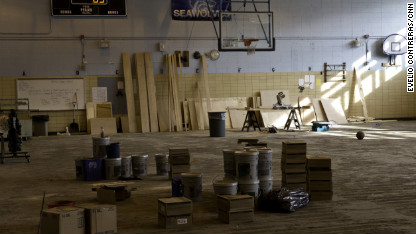 The gym at Scholars' Academy is a construction site.
The whole experience reminds O'Connell of the building he walked into years ago, when far fewer kids graduated, let alone went to college.
"Now we're in a position where at least we have a great core group of teachers, phenomenal students (and) a really concerned, active, supportive parent body," he said.
Stacy Amato, co-president of the school's PTA, said the school stood out for its diversity, its technology, its graduation rate, how many students it sent to college, how many teachers were willing to stay late. Before the storm, she said, "we were really rocking and rolling." More parents were bringing fresh energy to the school, organizing fundraisers, printing sweatshirts, paying for new equipment.
Now, parents are waiting on word for how they can help rebuild and bring some normalcy to their kids' lives. Amato's own family was displaced for 18 days after the storm. Her son, a seventh-grader, is attending classes at the temporary school.
"I am concerned about the health of the building, that everything has been cleaned and taken care of," Amato said. "This place is like a family to (O'Connell) and I know he will do it right."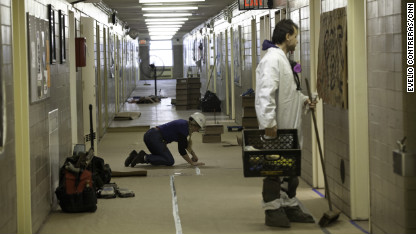 Workers are rebuilding inside Scholars' Academy.
On a typical day now, O'Connell wakes up in his hotel room, then travels to his students' temporary schools. Then, he comes back to Scholars' Academy and pushes crews to get the place running.
The city allocated $200 million to make repairs to schools like Scholars' Academy. A week after the storm, it swarmed with construction crews and heavy equipment, but there's a lot to do, and more to buy.
The shiny gym floor had buckled and floor padding, recently purchased by parents, was ruined. The cheerleaders' uniforms were drenched in scum, and the auditorium's seats and sound system sat in a pool of water. Band and orchestra instruments bobbed in the water, with mold forming in their cases. Anything that wasn't 4 feet off the ground floor was destroyed, including scores of books, music, uniforms, teachers' belongings and workbooks. Every chair, table and desk on the first floor sat in water for days, rusting the feet.
"I worry that anything we don't tear up will rot or mold or buckle," O'Connell said. "I quantify the loss in terms of what it's actually gonna cost me if I have to replace those items new. … It really adds up because some of these items are quite expensive, quite dear."
Meanwhile, his students are packed into classes at W.H. Maxwell Career and Technical Education High School and P.S. 13, schools in East New York, worlds away from the beach. P.S. 13 found space for about 700 Scholars' Academy students in closets, halls, offices, the cafeteria, "every single place we can imagine," P.S. 13 principal Sabrina Fleming said.
"A lot of them, they didn't have food, they didn't have clothing, they didn't have a place to stay. For a lot of them, they just wanted a place to come together," Fleming said. "That's why I said, 'You know, how can we not give them this opportunity, where they can come together and at least be with their friends?'"
It's tough on the teachers, too, Fleming said. When Scholars' Academy teachers walked in, many had lost their homes. The P.S. 13 faculty hugged them. For kids, staff members distributed outline drawings of a child and asked the kids to fill in their emotions.
"They lost everything," said Fleming, who now shares her main office with a second set of staff members. "The emotions are definitely high here. So, the first week, it was a lot of counseling for their staff … we are definitely able to relate to their loss."
There are tests looming, ceremonies already missed. They recently held parent-teacher day in a big auditorium at a replacement school. The fall sports season is flying by, with no plan yet for how to replace the Scholars' Academy Seawolves equipment or musical instruments.
"When you go to the beach as a kid, you build a sandcastle. And as a kid, you learn early on that, sometimes, that tide comes in and it wipes out your sandcastle. What you do, when you can, you don't necessarily move your location," O'Connell said, speaking like a kid from Rockaway Beach. "You rebuild."
To donate to Scholars' Academy, visit scholarsnyc.com/rebuild.
CNN's Poppy Harlow contributed to this report.