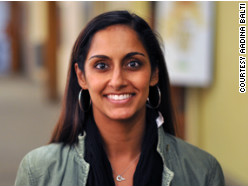 By Aadina Balti, Special to CNN

Editor's note: Aadina Balti is a veteran teacher and math coach in Boston's public school system. Balti is certified in moderate disabilities and elementary education. She is also a Teach Plus Teaching Policy Fellow.
(CNN) - I've been in the classroom for 11 years - that makes me a minority in the teaching profession, as more than half of all teachers have taught for a decade or less. But I'm still striving to be a better teacher.
A recent report from national nonprofit Teach Plus shows that veteran teachers like me tend to be less receptive to the growing emphasis on teacher performance than our less-experienced colleagues.
The report, "Great Expectations: Teachers' Views on Elevating the Teaching Profession," highlights data from Teach Plus' recent national survey of teachers, showing that 42% of earlier-career teachers (called the "new majority" in the report) support more performance-based tenure and compensation systems, compared to just 15% of my fellow veterans.
As a teacher who has just crossed the line from new majority to veteran status, I understand how experienced teachers feel about the protections afforded them by the tenure system.
I understand because I've put in the time and effort necessary to establish myself in the school system. I understand because I, too, value my job security. Sometimes I even understand that it's easy to get comfortable and fall into doing the same old thing.
But the current lack of accountability is bringing our profession down.
While I value the tenure I've been granted, I would be willing to give up that protection to move our profession toward one that emphasizes performance.
I got into this profession because I want to have a positive impact on society and because I feel confident that all children can learn. As an educator, it's my job to make that happen. I ask my students to push themselves for excellence every day. If I'm not pushing myself for excellence, too, then I'm not just failing myself, I'm failing my students.
FULL POST