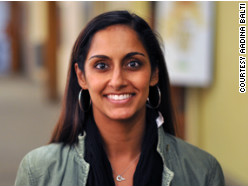 By Aadina Balti, Special to CNN

Editor's note: Aadina Balti is a veteran teacher and math coach in Boston's public school system. Balti is certified in moderate disabilities and elementary education. She is also a Teach Plus Teaching Policy Fellow.
(CNN) - I've been in the classroom for 11 years - that makes me a minority in the teaching profession, as more than half of all teachers have taught for a decade or less. But I'm still striving to be a better teacher.
A recent report from national nonprofit Teach Plus shows that veteran teachers like me tend to be less receptive to the growing emphasis on teacher performance than our less-experienced colleagues.
The report, "Great Expectations: Teachers' Views on Elevating the Teaching Profession," highlights data from Teach Plus' recent national survey of teachers, showing that 42% of earlier-career teachers (called the "new majority" in the report) support more performance-based tenure and compensation systems, compared to just 15% of my fellow veterans.
As a teacher who has just crossed the line from new majority to veteran status, I understand how experienced teachers feel about the protections afforded them by the tenure system.
I understand because I've put in the time and effort necessary to establish myself in the school system. I understand because I, too, value my job security. Sometimes I even understand that it's easy to get comfortable and fall into doing the same old thing.
But the current lack of accountability is bringing our profession down.
While I value the tenure I've been granted, I would be willing to give up that protection to move our profession toward one that emphasizes performance.
I got into this profession because I want to have a positive impact on society and because I feel confident that all children can learn. As an educator, it's my job to make that happen. I ask my students to push themselves for excellence every day. If I'm not pushing myself for excellence, too, then I'm not just failing myself, I'm failing my students.

I've been at one school my whole career, and I've seen that, over time, many teachers tend to burn out or become resistant to change.
There's good reason for this. Change is hard, and teachers are constantly subjected to new programs, policies and curricula and expected to implement them with limited support or preparation. But it's important that we remain willing to make changes so long as they benefit our students.
As the math facilitator for my school, I worked with my administration to make a drastic change in our curriculum, away from what the rest of the district was using. Based on my experience with multiple math programs, I felt that this new curriculum was more comprehensive and better aligned with the Common Core Standards, so I decided, along with two colleagues, to pilot it in our classrooms.
The results were astounding. Our students not only demonstrated proficiency, but they also outperformed other classes across the district.
But when we moved to adopt this successful curriculum schoolwide, we met resistance from colleagues: they were comfortable with the curriculum we'd been using for years. It was frustrating to see that not all classrooms were implementing the curriculum fully - and not getting the best possible outcomes for students.
Our state test results showed discrepancies across classrooms: We all used the same curriculum, received the same professional development and taught the same student population. The only difference was teacher implementation. Those of us willing to embrace the change got better results.
Our job is too vital to allow ourselves to ever rest on our laurels. It is our responsibility to be innovative and relentless in our pursuit of excellence for the sake of our students, not just in our first year in the field, not just in our first few years, but always.
If we want respect as highly skilled professionals, we need to be held - and hold ourselves - to the highest standards.
Part of achieving this level of professionalism is building a tenure system that acknowledges performance. Rather than using only time in the classroom to earn tenure, I suggest a system that requires a minimum of three years of experience and proficient or exemplary performance ratings using a rigorous evaluation tool before tenure can be granted.
Once we have established ourselves, it should be our responsibility and the responsibility of the school system to ensure that we maintain tenure through continued evaluation and professional development.
Of course, I recognize that we need a fair and objective system that determines teachers' effectiveness. It's vital that we play close attention to how new evaluation systems are being rolled out: Evaluators need to be qualified and properly trained, and multiple measures need to be used to determine teacher effectiveness and student growth.
When we prove ourselves proficient or exemplary, we should be rewarded accordingly. Teachers who fall short should have the opportunity to improve through a time-limited support plan. What good is a teacher who consistently receives poor ratings? And what good is a system that doesn't help struggling teachers improve?
Teaching isn't an easy job, and - like people of all professions - we occasionally have bad days. But we deserve a system that motivates us to do our best. If our job security depends on our performance, then we need to prove that we have what it takes. Otherwise, we are failing our students and our schools - and our profession is failing us.
Regardless of how many years I have under my belt, I will continue to feel this way. I will continue to want teaching to be respected as a profession of highly skilled individuals. High standards are the way to achieve this. If I stop aiming for excellence, if my students stop growing and achieving in my classroom, I'll know my time as an educator is up.
The opinions expressed in this commentary are solely those of Aadina Balti.