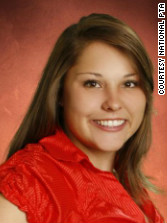 By Dani Carver, Special to CNN
Editor's note: Dani Carver is a senior at the University of New Mexico majoring in elementary education. She plays intramural volleyball at the university. She is also a member of the National PTA's Youth Involvement Committee.
(CNN) - As a former high school athlete, the recent rumblings surrounding new school lunches have resonated with me, but perhaps not for the reasons one may think. Decades of research show a direct link between healthy eating and performance in sports. For too long, we have accepted that student-athletes just need calories – any calories. That is simply not true.  Athletes need nutritious offerings to do their best, whether that is in the classroom or on the field.
That's why I support the changes and updates to the school lunch program made this year as part of the Healthy, Hunger-Free Kids Act of 2010. A provision of the law, which took effect this year, requires schools participating in the National School Lunch Program to serve meals with more fruits and vegetables, whole grains, low-fat or fat-free milk, and portion sizes appropriate for age groups.
One of the criticisms of the new meals is that they are not meeting the needs of student-athletes.  That's a real concern for some students. But when we look deeper at the issue, the facts may be surprising.

Before the new lunch guidelines, high schools were offering an average of 857 calories to students at lunch. The new limit of 850 calories per meal means most high school students are getting the same amount of calories at lunch as last year. They're just getting them from healthier food.
And in response to concerned parents and students the USDA recently announced that it will do away with daily and weekly limits for meat and grains.
The nutrition guidelines are based on the needs of the average high school student.  Fortunately, for students who may need additional offerings, most schools offer supplementary sides in the cafeteria for purchase. And what a lot of students and parents don't realize is that extra offerings of fruits and vegetables can be provided at no cost to the student.
To ensure all these options are healthy, students should ask their parents to talk to the school food service director, administrators and coaches on more options for student-athletes. Finally, students-athletes can always bring food from home.
I understand the challenge in getting students to accept the healthier changes in school lunches.
My parents always told me that eating healthy was good for my academics. I used to fight eating in a healthy way, but I also knew deep down that they were right. I now realize that it made a great difference in the way I performed in the classroom and in sports. Instead of complaining about the offerings, students should be encouraged to see this as an opportunity to team up with school administrators and staff to identify food that is nutritious and delicious.
In fact, students consume up to half of their daily calories during the school day.  School meals shape eating habits for us even beyond our school days.  It's crucial for us to create healthy eating habits now to help prevent projections in a recent report that half of U.S. adults will be obese by 2030.  Just as we practice academics in the classroom and athletics on the field or court, it's important that we practice good eating habits in the cafeteria.  Making changes today means we can be healthy participants of society and the work force tomorrow.
The opinions expressed in this commentary are solely those of Dani Carver.