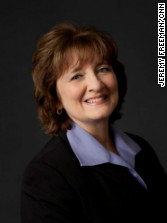 By Donna Krache, CNN
Editor's note: Donna Krache is executive producer of CNN Student News, and an editor of the Schools of Thought blog. She is a former middle and high school social studies teacher.
(CNN) – In the 1980s, when I stepped in front of my first class of high school students, we didn't worry about attacks on schools. The phrase "school shooting" was not part of the education lexicon. The tragedy at Columbine High School was years in the future.
There was no Internet and no cellphones, a time most of today's students would think was hundreds of years ago.
And yet, something that my first principal said about teaching still rings true today.
"No matter what some people will tell you," he said, "anyone who is in teaching is in it for the kids."
The teachers I know are certainly not in it for the money, nor the accolades, nor – despite what some believe – the two months off in the summer. That's when many teachers find second jobs to make ends meet until they can return to their classrooms.
They're in it in part because of a passion for a subject and for knowledge and they want to pass that love of history, or science, or math to the next generation.
But more importantly, they are in it for the kids.