By John Martin, CNN
(CNN) - Years ago, maybe years upon years ago, you probably sat in a classroom and learned how chemicals combine to form new substances. You watched your teacher write on the board, drew a few pictures and completed a worksheet. Maybe you read the textbook at home and studied images of electrons being shared and transferred to form chemical bonds.
If you step into a high school chemistry class late next year, the students might be learning the same thing. But they could be manipulating foam or paper mache models to show how bonds are made, or moving electrons around on a computer screen, testing what happens when a transfer occurs.
Science classrooms in America will begin to change next year, when 26 states are expected to adopt the Next Generation Science Standards. How those students learn will often differ from the education their parents, or even their older siblings, had.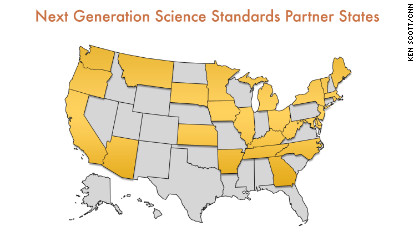 Twenty-six states helped develop new science standards.
Whatever they're doing, they won't just be reading science translated into kid-speak by adults. They'll be making models, solving problems and getting messy, the standards developers said. They're expecting the next generation to gain an understanding of science and engineering that makes them competitive on a global scale.
"The Next Generation Science Standards… could potentially have a profound change on how we teach science," said Gerry Wheeler, executive director of the National Science Teacher Association. "Parents need to know it's a different kind of classroom their child's going to see."
So exactly what will change?
Instead of just listening to a lecture, or maybe creating a model that represents a cell or an atom, students will use the models - often created on computers - to collect data or make predictions.
Their models won't be graded based on artistry, but on their knowledge of what they represent and how they go through processes. Is the sodium atom correctly constructed? What happens when electrons from that atom get close to electrons from a chlorine atom? Instead of seeing electrons bounce from one atom to the other, students will change their own dynamic models, forming the bonds themselves. Students won't be memorizing knowledge, they'll be constructing it.
The standards will integrate more technology and engineering – the T and E in STEM curriculum you've probably heard about. Science and math will still be major parts of what kids learn, but expect engineering principles to receive as much attention as the scientific method does now.
Educators and business leaders hope this will keep students interested enough to pursue science, technology, engineering and math fields in college and prepare them for the workforce.
"Not all kids get the benefit of what's done, even at some of the outstanding schools, so I think we have a long way to go in getting our students prepared for college," astronomer and author Jeffrey Bennett said during a conference of science educators earlier this year.
While many students in the United States aren't ready for the science courses they'll face in college, Bennett said, sticking with the sciences can make it easier to find a job.
"There's a deficit in these fields," he said.
This mousetrap can crush cars - and teach physics
With the new standards, educators are hoping to standardize kids across the country. For the first time, what's taught in a science classroom in North Carolina should look similar to what's taught in Massachusetts, Iowa or Oregon.
States are used to going it alone when developing curriculum for the classroom. They collaborated on the Common Core standards for math and reading, and again to create the new science standards. Educators weighed in on their development, along with the National Science Teachers Association and Achieve, a bipartisan nonprofit led by state governors and business leaders.
Some schools are expected to implement the standards shortly after they're released in March, while some might have to wait for state school boards or lawmakers to OK them. States that didn't weigh in on their development can adopt them, as well.
Even once the standards are OK'd, they could be a challenge to implement. New experiences for students mean teachers have to learn new techniques, and schools might need to add new equipment. The costs will vary based on the state and students, Wheeler said, but he anticipates schools will need support from public and private sources in the years ahead. The dollars are likely to add up over time: 46 states and Washington, D.C., have spent almost $4 billion to implement the Common Core standards for math and language arts, according to a Thomas Fordham Insitute study.
Teachers are preparing for long days of professional development.
Georgia teacher Alicia Moore has been in the classroom for more than 20 years and knows she'll be spending some of her summer days in the classroom training on new techniques.  Moore has been through plenty of standards revisions before, and they've gotten better every time, she said, but this change really works for students.
"I think [the students are] definitely trained in this new way of teaching," Moore said. "They know they're going to be involved. They know they're not just going to be able to come in and let me give them everything."
The National Science Teachers Associate will offer classes and webinars to help teachers make the transition, Wheeler said.
"There's going to be a need for a lot of support for the teachers," the association director said. "It's a new way of doing science in the classroom. Much more relevant, much more application-oriented."
Diana Callison is in her first year teaching biology at the same South Carolina high school she graduated from four years ago. The way she learned science and the way she teaches science aren't at all the same, she said.
"There's a lot more technology, new content, even new cutting-edge things…that weren't around four years ago when I was there," Callison said.
My View: What a 21st-century science classroom should look like
Vendors are already preparing supplies aligned with the new science curriculum, too.
Jeff Chirikjian, vice president of biotech education company Edvotek, said they sell kits that teach students techniques nearly identical to those used in crime labs and research facilities. The difference? Scale and price.
One kit the company sells allows students to amplify and analyze 12 DNA samples. The kit costs around $400, thousands less than a professional laboratory version that handles 96 samples.
"We made it simple, easy to use and safe, but yet it's still real science," Chirikjian said.
Of course, just because the classrooms operate differently doesn't mean everything will change.
"There's a lot of work that's been done on how to motivate kids, how to get them excited and so on," said Bennett, the astronomer, "but we forgot to tell the kids you actually have to go home and study hard."