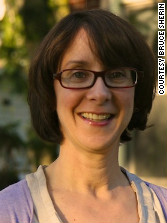 By Miriam Gamoran Sherin, Special to CNN
Editor's note: Miriam Gamoran Sherin, a public voices fellow with the OpEd Project, is professor of education and social policy at Northwestern University and mother of three.
(CNN) - In the past several weeks, middle and high school students across the country brought home their first-quarter report cards. Many make a push to improve scores and grades before the holidays, and over winter break, some will study for final exams, knowing those results are a major component of their semester class ranks.
For many families, report cards serve as the key measure of a child's success in school.  They're assigned so much importance, grades can be the source of conflict and tension at a time when parents and their children could be celebrating the winter holidays peacefully.
But what if the report card itself is not so valuable? What do grades actually tell us about our children's learning?
Not as much as we think.
Grades are one measure of our children's success, but perhaps not the most important one. The level of learning is what matters.
My 12-year-old daughter is getting a B in her seventh-grade math class, and learning much more than last year, when she was getting an A. Her sixth-grade math class focused on rote computation with study guides that were almost identical to the following day's test. This year, her class focuses on mathematical problem-solving. The tests challenge students to apply what they know.
FULL POST