By Jamie Gumbrecht, CNN
(CNN) - Some 20 years ago, when Troy Gunter was a new band director, he had the crazy idea that his high school students should someday march in the Rose Parade.
It's a lofty goal for any band. The annual march through Pasadena began in 1890 and evolved into a New Year's Day spectacle of music, flowers and football watched by 700,000 along the route and 39 million more on TV.
Gunter's school, Valley Christian High School in San Jose, California, grew from a few hundred kids to more than a thousand. The private school's marching band ballooned to about 150 students and evolved into the school's Conservatory of the Arts. Over the years, the marching band took on more competitions, longer parades and overseas travel.
A few years ago, when Gunter and the band returned from a trip to Cambodia, an idea struck: Why not apply to the Rose Parade now, with an international partner?
Problem was, they didn't really know any overseas bands. They weren't sure how they could practice together, let alone organize for the grandest stage a high school marching band can reach.
With the 2013 parade deadline looming, they got in touch with Beijing's No. 57 High School. The band's director, Lu Jin, was familiar with the Rose Parade, and his band had played a few major events, including the 2008 Beijing Olympics.
"Through a contact of a contact of a contact, we got together," Gunter said. "It was like a blind date."
Without ever meeting, Gunter, who doesn't speak Chinese, and Lu Jin, who doesn't speak English, agreed to go for it.
Students said it felt like a long shot at best. They knew more than 70 bands had applied for spots in the 2013 parade, bands that were bigger, bands that had appeared in the parade before, bands that didn't have to leap a language barrier just to rehearse.
But the Valley Christian High School East-West Fusion All-Star Band got in.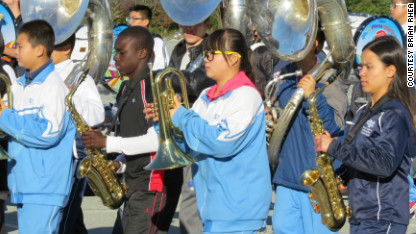 The bands rehearsed together last week for the first time since April.
Twenty-one bands will be marching in the Rose Parade on Tuesday. They come from Pasadena and nearby Los Angeles; from Lexington, Kentucky, Sioux Falls, South Dakota, and Orange City, Iowa; Japan, Mexico and El Salvador. New Orleans-based Roots of Music Marching Crusaders, founded by 2009 Top 10 CNN Hero Derrick Tabb, will be marching.
Each submitted long applications and performance DVDs in hopes of being selected. Those chosen spent more than a year choosing and rehearsing music, mapping a sharp 105-degree turn and coaching members to march 6 miles without fainting.
This year's theme: "Oh, the places you'll go!"
"It's a call to action, take charge of your life and follow your bliss. Sometimes, that would cause you to make unconventional chances," Tournament of Roses President Sally Bixby said of the Dr. Seuss-inspired choice.
Bixby couldn't remember another case when U.S. and international bands filed a joint application. The idea so intrigued the parade organizers that she joined the Valley Christian band when it traveled to Beijing last April, when they first met.
The early rehearsals in Beijing were rough, by all accounts. Translators helped, but they weren't musicians. Marching band vocabulary and high school jargon fell to students like Felicia Fang, a senior flutist who served as Valley Christian's field show drum major this year. Her parents grew up in China, and her family often speaks Chinese at home.
"I wasn't sure how we'd be able to join together and form one working band. We had to group the instruments together, figure out the names of the instruments in Chinese. Should we have the American band sitting first? The Chinese band?" Felicia said. "In the end, we kind of sat down and worried about that later."
Playing music was the easy part. Rehearsals might take a different tone, and marching might require a new step, but adding 100 musicians to a band always makes it better, she said.
"The volume was great. That's when we started to get excited," Felicia said. "If we can march with that great of a sound, why wouldn't you want to?"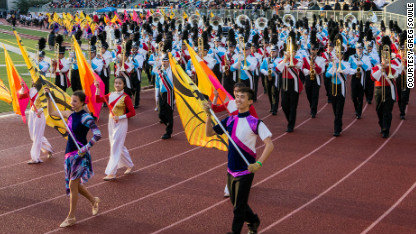 Combined, the U.S. and Chinese bands have more than 240 members.

On the Valley Christian band's last day in Beijing - its last hours, really - something shifted. The temperature had skyrocketed as the bands posed for photos in their heavy blue uniforms. They were exhausted and overheated, and finally, they had a moment of unscheduled time to hang out, to talk -  or translate and wave hands wildly to make their points.
The students, staff and parents all saw it happening: Students hugging, students playing basketball, students laughing and exchanging email addresses. One student brought Felicia a bag of Chinese snacks to take home to her parents, little treats her fellow flutist thought they might miss.
"When you're at your weakest, you're really tired, really hot, you've really studied hard, your inhibitions go," Felicia said. "Band kids are band kids."
It hasn't felt so simple since then. The Valley Christian band was on summer break, then immersed in its fall field show. Each band independently rehearsed its Rose Parade music, a new arrangement of "Shenandoah," a traditional American tune, and "Jasmine Flower," a Chinese folk song. The color guard in San Jose sent videos of their flag routine to the Chinese band and hoped for the best.
"Patience is the word," said Kathryn Read, one of the army of parents who raised money for the China trip who was on hand to find gloves and serve food for the combined band.
"I certainly saw a growth in (students) being able to connect with the music, to understand other cultures love to do the same thing they do, and put in the hard work that they do," said Read, whose son and daughter are marching in the parade. "They have an understanding, even if they can't talk to each other."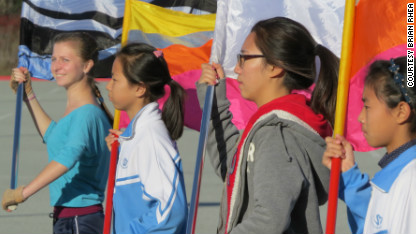 The U.S. color guard sent videos of the routine to the Chinese guard.
The bands finally met again last week, when 105 students from Beijing No. 57 arrived in California for a few more days of rehearsals and a schedule packed with performances. They have more in common than they realized at first, said Brooke Read, a color guard captain.
"You don't need words to express what you want accomplished. You do it more in your actions and body language, being able to show and do, not yelling at them, talking at them" said Brooke, who will be the featured twirler during Tuesday's parade.
"Leaders don't always need words. They need actions."
Early Tuesday morning, the band from San Jose and the band from Beijing will meet at the bus at 5:45 a.m. and travel to the starting point for the Rose Parade. The music will be memorized, the feet in step, the flag flourishes in sync. The bands will wear matching uniforms – Valley Christian in light blue, Beijing No. 57 in red – and they'll spread into a parade block by instrument, not by country or band director.
Brooke Read will be toward the front, her dress speckled with 400 rhinestones. The parade is the ultimate reward for her senior year,  for her band director's long-ago dream, for the 240 kids who learned to speak without words.
From the first note, the first step, she knows she'll be thinking something still hard to believe: "This is my band."
All of them.