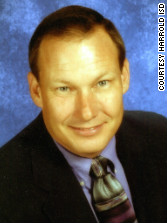 By David Thweatt, Special to CNN
Editor's note: David Thweatt has been superintendent of the Harrold Independent School District in Harrold, Texas, for nine years.
This week, Schools of Thought will publish perspectives on school security. Tomorrow, a parent and author reacts to school safety responses in the wake of the school shooting in Newtown, Connecticut.
(CNN) - Good parents protect their children. We protect them from the wind, sun, fire, cold, sickness, from animals, harmful philosophy, other children, predatory adults, injury when possible, their own faulty reasoning and anything else that we see as a dangerous risk to their health and well-being. They are the future, and they are precious.
At the Harrold Independent School District in Texas, we believe we've done everything possible to protect our children. We use cameras, electronic security and emergency plans, and some of our staff members are armed.
When I got into education in 1979, the idea of guns in schools was completely off my radar. But I believe faulty logic was used to frame the 1990 gun-free school zones law, which made it illegal for most citizens to knowingly possess firearms near schools. No police record, news account or anecdotal evidence showed that school personnel authorized to carry weapons used guns to hurt or injure innocent children. There was no reason for the federal law except defective reasoning: Policy makers believed that because guns came into schools in the hands of law-breaking gang members and drug dealers, the smart response was to take them away from law-abiding citizens.
What a perilous law that has become. We hung a sign on virtually every school in America that said, "Here await our most precious possessions in the world, and they are not protected."
In Harrold, our school serves about 105 students in our rural community 150 miles northwest of Fort Worth. Best-case scenario, we are a half-hour away from the closest law enforcement officials.
In 2005, after shootings at other schools and universities, I began to research ways to protect our school's children, and my research included the idea of arming staff members. There was no blueprint for how that would work, so we spent two years researching and considering different requirements and legal issues. The school board passed it October 22, 2007.
We call it the Guardian Plan.
It does not OK every staff member to carry a gun. Employees must possess a Texas Concealed Handgun License and be approved by the school board. They undergo training involving accuracy and hostage situations and are required to use frangible ammunition to minimize ricocheting and injury to bystanders.
The Guardian Plan is not entirely outside the box of school security – many schools have armed guards or officers – but it has some unique qualities when compared to the status quo. No one knows the identity of our Guardians, and because they do not know who is armed, guns aren't likely to be stolen, and our Guardians aren't targets the way a guard or officer might be.
The number of Guardians can be higher than the usual one or two security guards, and they can be placed strategically throughout buildings. Unless the media shows up every few years to highlight the fact that some of our personnel are armed, my students forget the guns are present. They are out of sight, out of mind. That's never the case with security officers with guns in open holsters.
The Guardian Plan is a blueprint that can work other places, but I firmly believe in local control and that every community needs to do what they think is right. Would I change any of the components? No. We thought about it so long, and tried to answer every possible question. I have taught in larger districts, and know they might need a different vetting process for who can carry a gun, and different discussions with parents and kids. In our town, we value self-reliance, and we are used to being our own first responders.
Many believe that Second Amendment traditions and rights are antiquated, treacherous and unnecessary. Some believe that if all of the guns and weapons were thrown into the sea, the world would be at peace. To be direct, this is naiveté at its zenith.
We know guns are not permitted in prisons, but those facilities are not nice, safe places. Killing tools of many kinds are fashioned there because creativity and design are not only traits of good and honest citizens. Not all immoral and depraved individuals are in prisons. Some have yet to be identified, and some are intent on harming our children - in our homes, schools and any other place. Guns in the hands of good people results in protection from bad people. It is that simple.
Is it foolproof? No, nothing is. At the end of the school day, we at Harrold want to know we've done everything possible to protect our children from people who are intent on harming them. We are better prepared to do that than many other places.
Across America, we need signs in front of schools that read: "We love our children: They are protected."
The opinions expressed are solely those of David Thweatt.
What do you think? Read more perspectives on school security, and share your thoughts in the comments section.