By Fahiemah Al-Ali, CNN
North Plainfield, New Jersey (CNN) - Stepping into the auditorium of the Sundance School last weekend was like being transported back to another era.
Glen Miller's big band crooned "Moonlight Serenade" in the background. A dusty pink feather boa draped sequin-adorned chairs. Heart-shaped velvet boxes sat in the center of each table. A striking black-and-white wedding photograph from 1938 was perched proudly on a small wooden table.
It was the school's way of celebrating the guest of honor – teacher Agnes Zhelesnik, affectionately referred to as "Granny" by her family and students.
The average teacher retirement age is 59, according to the National Commission on Teaching and America's Future. It's a marker Zhelesnik has blown past.
She just turned 99.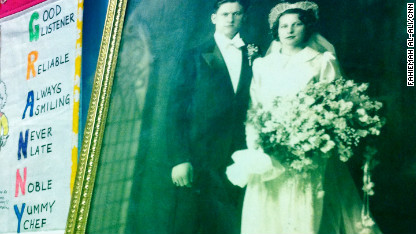 Agnes Zhelesnik's students celebrated her 99th birthday.
For 60 years, Zhelesnik was a stay-at-home mother and wife. She began teaching part-time at the Sundance School in 1995, when she was 81.
Eventually, she became a full-time teacher at the school, instructing classes on cooking, sewing and costume-making. She still comes to work every day.
"I love them. They're my best helpers. That's the only reason why I come here, is the children," Zhelesnik says, her blue eyes sparkling behind silver metal-framed glasses.