By Fahiemah Al-Ali, CNN
North Plainfield, New Jersey (CNN) - Stepping into the auditorium of the Sundance School last weekend was like being transported back to another era.
Glen Miller's big band crooned "Moonlight Serenade" in the background. A dusty pink feather boa draped sequin-adorned chairs. Heart-shaped velvet boxes sat in the center of each table. A striking black-and-white wedding photograph from 1938 was perched proudly on a small wooden table.
It was the school's way of celebrating the guest of honor – teacher Agnes Zhelesnik, affectionately referred to as "Granny" by her family and students.
The average teacher retirement age is 59, according to the National Commission on Teaching and America's Future. It's a marker Zhelesnik has blown past.
She just turned 99.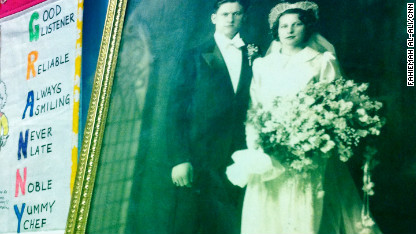 Agnes Zhelesnik's students celebrated her 99th birthday.
For 60 years, Zhelesnik was a stay-at-home mother and wife. She began teaching part-time at the Sundance School in 1995, when she was 81.
Eventually, she became a full-time teacher at the school, instructing classes on cooking, sewing and costume-making. She still comes to work every day.
"I love them. They're my best helpers. That's the only reason why I come here, is the children," Zhelesnik says, her blue eyes sparkling behind silver metal-framed glasses.
Four generations of Zhelesniks and scores of Sundance staff, parents and alumni – some as young as 8, some as old as 30 – filled the room for the festivities, all with personal stories about spry, slender Granny.
Zhelesnik, who is a mother, grandmother and great-grandmother, was born on January 12, 1914. She's lived through two World Wars, recessions, depressions and was happily married for 61 years before her husband passed away in 1999.
And while many things have changed since her days as a student, Granny says one thing has not.
"Kids are the same. They like to eat. They like to laugh and talk," she said.
The fun-filled afternoon capped off with an open mic "Granny tribute," which included lively performances by Sundance's students and alumni, including one by 11-year-old Lucas Schultz, who will soon be touring with a national production of the musical "Mary Poppins."
Zhelesnik's 69-year-old daughter, also named Agnes, and also a teacher at the school, tenderly held her mother's hand as they blew out 99 candles on her birthday cake.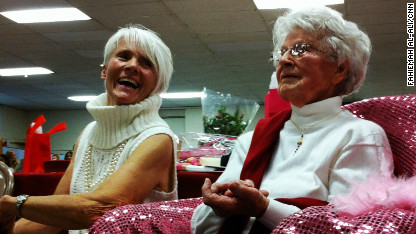 Agnes Arakelian celebrated with her mother, a teacher known as "Granny."
Granny didn't want gifts; she asked guests to make a donation to her favorite charity, Children's Specialized Hospital in Mountainside, New Jersey. But the school presented Zhelesnik with a surprise – a quilt, with each unique fabric square designed by a Sundance class.
So how much longer does Granny think she'll continue teaching?
"Till I'm 100," she laughed. "I feel good enough."
Her students agree.
"She's really unique because she still hasn't retired and she's a really good cook. And she's still out and about," 9-year-old Ryan Rosenthal, a Sundance alum, said.
"And the fact that she's not in a wheelchair or doesn't need a cane or something –" his identical twin, Lee, added.
"Or a walker!" Ryan chimed in.
"…is pretty amazing, pretty phenomenal," Lee finished.
But if you ask Zhelesnik what her secret is, her answer is simple.
"It's the children. The children are the greatest," she said. "You know, you have your own, but when it's these kids, they're just something else."